Search best buggy:

O'Baby Atlas Sport Plus Review by Rachee26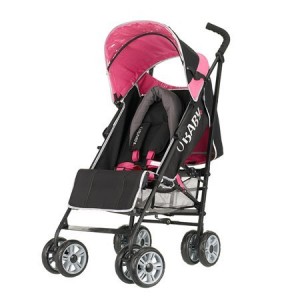 I spent ages looking for a smaller buggy to replace my daughter's travel system. After falling in love with some of the prettier options I decided it would be better to base my research on practicality, quality and good value rather than which one looked the best!
After reading many reviews I decided to try the O'Baby, I found one for sale in Mothercare and took it for a mini test drive around the store and was pleasantly surprised and would even go so far as to say it "drove" better than some of the more expensive brands. I searched online and got a fantastic deal from nurserysuperstore.com, I got the buggy plus a matching footmuff and delivery for £82.
This buggy is very good quality for the money, the material is strong but comfortable, the frame is very sturdy. This version has all the features I could ask for; it has several recline positions and is easily adjusted even with baby in the buggy; adjustable foot rest; simple 5 point harness; carry handle so it is easy to carry around when folded up, it's also light at just over 7kg; shoulder pads to protect baby from rubbing straps; lockable swivel wheels which always go in the right direction; raincover. The best features for me are the parent window in the hood so I can see my daughter without stopping and peering round the front and the parent pocket, just big enough for my purse, phone and keys if we're just popping to the shops!
I opted for the pink, but there are a wide range of colours available to suit every taste, the colouring is subtle as the buggy is mainly black. The footmuff is matching and is nice and soft without being too thick, buggy folds up easily with the footmuff in place.
The only negative points about this buggy are; the folding mechanism, it took me a while to work this out as there is a small catch which you have to release before it can be collapsed, but now I have mastered this it is really easy; the brakes don't seem to fully engage when folded so if stood up it sometimes just rolls down the wall; the shopping basket isn't as big as I'm used to with the travel system, but it is a fair size for this size of pushchair so can't complain.
Overall I am really pleased with this buggy and would highly recommend it to anyone looking for a good quality buggy without wanting to part with too much money! My daughter fits well in it and always looks really comfy, she never complains when she's in it, just sits back and enjoys the ride and is very happy to fall asleep in it too!
Other O'Baby Atlas Sport Plus Reviews: