Search best buggy:


| | |
| --- | --- |
| | Exceptional: An excellent pushchair. |
| | Good: A pushchair with great qualities, which could be further enhanced. |
| | Fair: A decent pushchair, with room for improvement. |
| | Disappointing - A pushchair lacking in features, quality or functionality. |
| | Poor: A pushchair with flaws, issues or limitations. |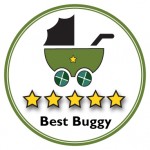 B.O.B. Revolution CE
B.O.B. Revolution PRO
Baby Elegance Sketch
Baby Jogger City Elite Single
Baby Jogger City Mini GT Single
Baby Jogger City Mini GT Double
Baby Jogger City Mini 3 Single
Baby Jogger City Mini 4 Single
Baby Jogger City Mini Zip
Baby Jogger City Premier
Baby Jogger Summit X3
Baby Jogger City Versa & Versa GT
Babystyle Hybrid Edge (Single)
Babystyle Oyster 2 and 3
Babystyle Oyster Gem
Babystyle Oyster Zero
Babyzen YoYo
Britax Affinity
Bugaboo Buffalo
Bugaboo Cameleon
Bugaboo Donkey
Easywalker MINI Buggy
Easywalker MINI Stroller (New)
Easywalker Mosey
Egg
Egg Quail
Graco Evo
Graco Evo Mini
iCandy Cherry
iCandy Peach 1, 2, 3, 2018 and 2019
iCandy Peach Blossom 2 and 3
iCandy Peach Jogger / All Terrain
Joie Litetrax
Joolz Geo (Mono and Duo)
Mamas & Papas Armadillo City
Mamas & Papas Armadillo Flip
Maxi-Cosi Noa
Mee-go Glide
Mee-go Santino
Mutsy Evo
Silver Cross Pioneer
TFK Joggster Twist
Thule Urban Glide
Uppababy Vista (pre 2014)
YippieYo Crossbuggy
Best Buggy was built to help choose which pushchair or buggy to purchase. We provide photographs, statistics, information and reviews to help. We have a particular interest in finding ways to carry two or more children and more pushchair information is being added daily.
All reviews and information on Best Buggy is personal and subjective. Parents use pushchairs for different reasons and purposes dependant on their needs. An advantage for one person may be a disadvantage for another and vice versa. We strongly advise you to try any pushchair out for yourself before buying. Images branded with www.bestbuggy.co.uk are owned by the website owners and may not be used without permission. The ownership and copyright of all other images remains with the respective owners.