Search best buggy:

Baby Jogger City Versa Review by Sarah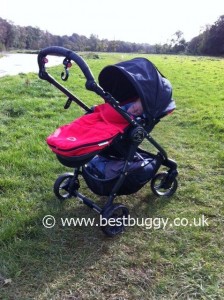 I LOVE my new Baby Jogger Versa!!
It has a very solid feel, great in mild off road conditions (I decided to go for the standard Versa and even this has coped brilliantly on my daily dog walks!).  It has a harder suspension than my Bugaboo Cameleon, but much better handling – my Cameleon was always hard/ impossible to steer one handed on the school run pavements which have a slight camber – even though the Versa is heavier to push it is much much easier. The Versa  handles brilliantly with one hand all the way along these cambered pavements and never feels like it's going to topple like my Cameleon always used to.  The Versa seems to be slightly heavier at the front which I think gives it it's better handling- so it's slightly harder to get up pavements but far outweighed by it's ability to handle with one hand. I haven't even mentioned the fold – everything else seems almost more impressive at the mo!  Because the balance of the Versa is so good I can even fully suspend my 4 year olds bike off the handle bars without any tipping at all

very very handy for school runs

The storage basket is just FANTASTIC!!! Huge and really accessible – possibly 2 or 3 times the useable capacity of my old Bugaboo Cameleon!
The handle height is perhaps the only thing Baby Jogger could improve for me – But then I'm 6′ tall!! I can still push easily enough but I do notice a slight bit of toe kicking at any handle position (never understood the rotating handle thing as it doesn't actually get you any further away from the rear axle!)