Search best buggy:

Hauck Eagle Review by Verity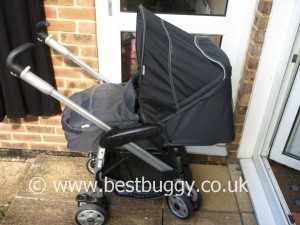 The Hauck Eagle is neat and narrow but the seat is a very reasonable size and quite plush feeling. It comes with a matching apron that is adjustable to fit either in pram mode or pushchair mode. The fabric looks hard wearing but feels synthetic rather than cotton-y.
The Hauck Eagle's hood is large and has a viewing window with a covering flap. It doesn't pull forward though even when the seat isn't fully reclined, but the rain cover zips on to the hood, which makes it very compact to take out. The leg rest has multiple positions from fully horizontal to almost straight down but the Hauck Eagle's leg rest won't fully go down when parent facing due to the framework at the back of the chassis.
The Hauck Eagle's chassis folds down in a two step, two handed 3D action rather than book fold, and it can fold with the seat off or with the seat on in outward facing or parent facing. However the fold is very long in parent facing mode.
The basket is a reasonable size on the Hauck Eagle and I can get 2 carriers of shopping in it, but the amount of storage space is limited by the cross brace on the chassis. The access is good from the side but not so easy from the front or back.
It is fairly easy to steer one handed but I have only tested it with a newborn, with a lot of shopping it was more difficult to keep in a straight line. Without shopping it went forward without much need for adjustment however it didn't cope with a camber on the path well when pushing one handed.
The ride in the Hauck Eagle is quite bumpy as there doesn't appear to be any suspension and going over uneven paving slabs woke up my baby due to
the joggling. The wheels coped well with the uneven slabs and didn't get stuck though.
The Hauck Eagle was easy to use on our local bus due to it's neat size but is long when reclined fully in parent facing mode. I think it would take a buggy board well either in parent facing mode in any recline position but in out facing it could only be partially reclined. The Lascal Maxi is compatible with the Hauck Eagle.
Other Hauck Eagle Reviews: