Search best buggy:

Baby Jogger Vue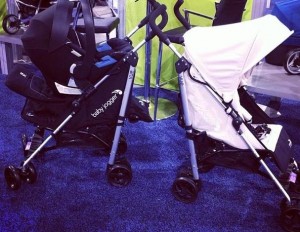 This is the new Baby Jogger Vue umbrella folding pushchair with a reversible i.e. parent and forward facing seat.
The Baby Jogger Vue also takes a Cybex car seat to form a travel system, but more car seat brand adaptors will be made. There is also a soft cot insert for a newborn baby.
We understand that Baby Jogger have bought the Njoy Bubble factory in Spain. The Vue is very much of the same mould as the Bubble. We have reviewed the Bubble, and there is lots of information here on Best Buggy.  Looking through all our photos, and reading our review etc. will give a good indicator of how the new Baby Jogger Vue will work. The main differences seem to be that the Baby Jogger Vue has smaller wheels and a slimmer frame.
We believe the Baby Jogger Vue will be released in the US in 2014, and will cost $199 for the stroller.