Search best buggy:

Raising Awareness at Nostell Priory with the Wakefield Down's Syndrome Support Group
Today was the annual Family Fun Day which the Wakefield Down's Syndrome Support Group hold each year at Nostell Priory, which is a beautiful National Trust property in Yorkshire.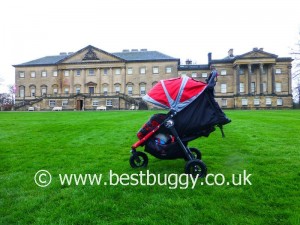 The Wakefield DSSG try to raise awareness of Down's Syndrome locally, and raise money to help children in the area with Down's Syndrome.
Last year we had only just moved into the area, and as my previous post says, I attended on my own. Master BB and I had a fabulous day out, and we really enjoyed seeing all the stalls and saying 'Hello' to people we knew. The highlight was the Mascot Race.
This year, all the BB family headed off to Nostell Priory with a lovely shiny new Baby Jogger City Mini GT, to try out on the grassy field. However, Master BB decided to sneak in a nap in the car, and so he was transferred still asleep into his new wheels. Unfortunately for us, Baby Jogger have changed the harnesses on their pushchairs this year. With Master BB already asleep, and the seat reclined, and a Buggysnuggle fitted, it was extremely difficult to strap Master BB in. The straps were at the very end of their length. The waist straps kept pinging apart into two pieces (really annoying), but eventually I managed to strap him in. I suspect it would not have been so difficult if he had been put in the pushchair awake. I have to say, I was missing my older GT with the longer and easier to do harness. However, the one advantage of the new harness is that the buckle is much harder for a child to undo. The old harness could be undone pretty much by simply brushing past it.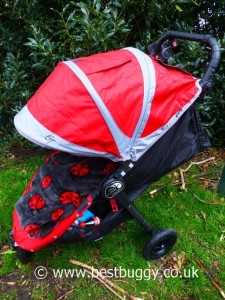 We chose the Baby Jogger City Mini GT because of its ability to cope with some rougher terrain, whilst it also had a large basket for all our kit, and the huge hood we knew would offer basic protection from the forecast rain (we had a raincover with us). To be honest, the GT worked great. It went across the tufty grass with ease. The rain did come down, but Master BB stayed dry in his Buggysnuggle with just the hood for protection. To date, despite having had something like 10 Baby Jogger pushchairs, I think we have only ever used a couple of the raincovers. We buy them, but then the hood / footmuff combination usually is enough to keep Master BB warm and dry.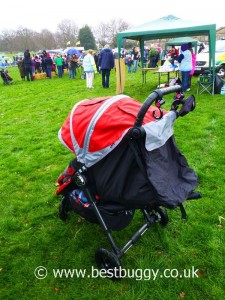 I had volunteered to do some face painting, and I was put to service within minutes of arriving. Master BB slept snuggly in his Baby Jogger whilst I painted endless butterflies and the odd tiger! Little Miss BB arrived at the head of the queue at one point which was lovely because she has never ever wanted her face painting before. So she got a lovely pink butterfly, and off she went to do some more bouncing. She came back clutching a sock puppet and a bag with chocolate eggs in. There was a singer, cheerleaders, and the Rock Choir.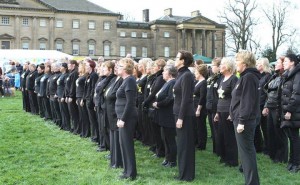 The Mascot race was silly as always.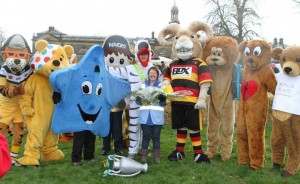 The winner for the second year running was Zeus the Zebra who claimed his prize from the world record holder Sarah Shutt: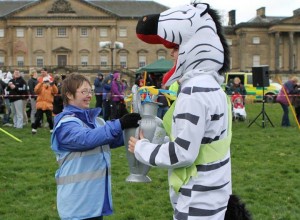 It was a great afternoon out. A little wet, but I know lots of children went home with smiles on their faces; awareness was raised; and nearly £2000 was thrown into buckets for the Wakefield Down's Syndrome Support Group, so that they can continue their good work.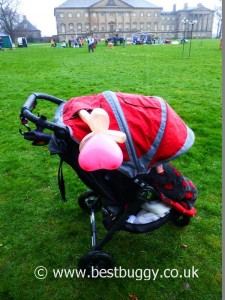 The Baby Jogger City Mini GT 2014, meanwhile gained some muddy wheels, and a wet hood. However everything in the basket stayed nice and dry; as did Master BB, who woke up right at the end….just in time to go home!
With thanks to the Wakefield and District Down's Syndrome Support Group and to Kooltrade.