Search best buggy:

With Much Love…
This post is for my family and friends…
I have always been very fortunate to be surrounded by good friends. Friends pass through your life, but I seem to have an amazing set of long standing friends with whom I can drop in and out of, as life allows.
Today we saw one such friend. I have known her since I was 11. We were always very different, but we have always got along really well. She is one of the most amazing and most kind people I know. When Little Miss BB was diagnosed with Type 1 diabetes, she was the person who held my hand through those first hard days.
Mr BB meanwhile is working very very long hours. It is Sunday, and 23.02, and he is just about to leave the office. We miss him dreadfully when he isn't here. Our family is extremely close. Apart from school / nursery, Little Miss BB has been left twice in the care of someone else (when Master BB was born), and Master BB has been left once (when Little Miss BB was in hospital). If I am not here, then Mr BB looks after the children, and vice versa. Wherever we go, the children go too. Whilst some days they are noisy, or frustrating, or bouncy, or ask a zillion and one questions (today it was about oxygen, carbon dioxide and trees), I wouldn't be without them. So, tonight I am here alone, with two sleeping children and two loyal kitties. Mr BB will be on his way home, and I can't wait to see him.
One of my friends was telling me how she was picking her hubby up from the airport this week, and I was reminded of how delicious it feels to be seeing someone you love for the first time for a while……sometimes it is good to be apart to appreciate the other person.
Tonight I am appreciating those around me.
I am appreciating my wonderful husband who works so hard for his family. Not just at work, but at home too. He is always so willing to help, do jobs, cook, make packed lunches etc., even after a long day at the office. He is so kind and considerate. I could not wish for a better husband, and I can't wait for him to arrive home tonight, to hold him close, and smell him near me again.
I am appreciating my two gorgeous and scrummy children who are growing up too fast. I am appreciating their cuddles which include being patted on the back; their sloppy kisses; their smiles; their beautiful blue eyes which tell me so much; the way their cute little hands take mine to lead me somewhere. I want to bottle them forever. I know this time is super precious. We spent so much of their early lives just dealing with life – whether it was my C-Sections; both children were very sick for 18 months each; or Master BB's hospital / therapy appointments etc.. We have been forced to move house twice in a year. Now I just want to settle and to enjoy every minute with my children. I want to create memories for us all to hold forever.
One of the best things about Best Buggy – something I never ever thought about when we began. Is that it serves as a permanent record of our children's lives. I have memories intertwined with every photo – often just small things, but there are lots of outings recorded, and lots of happy memories. Memories of birthday outings, of Easter Egg hunts, of visiting family, and celebrating with friends.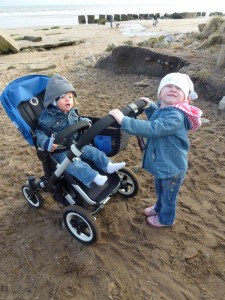 Last weekend we created more memories. We went to Manchester for the weekend. We visited The Trafford Centre many years ago on the way to visit a family I used to work for. Little Miss BB needed changing, so we ran in and out. However nothing was open at the time, so we said that one day we would return.
We decided to go to the Legoland Discovery Centre and to the Sealife centre as well. The Discovery Centre was disappointing to be honest. I found it really enclosed and oppressive – with dark lighting. It was also quite hot for April. There was very little for young ones to do which was a shame, as Legoland, Windsor is stacked full of things which under 5′s can access. It was expensive for what it is, and I have to say, I am glad we got discounted tickets, because we won't be going back in a hurry.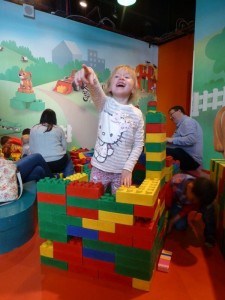 On the contrary, the Sealife centre was fabulous. After the oppressively hot, and very noisy Discovery centre, it was bliss to cool down and enjoy the slower pace of fish-speed life. We loved watching the sea horses twine their tails around the sea weed to anchor themselves. The amazing rays and other large fish came out to see us.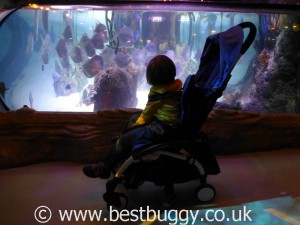 The baby turtles were super cute, whilst the huge big turtle was literally awesome swimming around in his tank. The jelly fish were beautiful. Master BB absolutely LOVED it and he was so animated and excited. He couldn't sign 'fish' fast enough!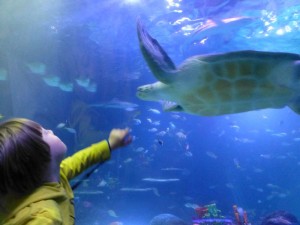 We spent time in the Trafford Centre too. We bought our favourite chocolates. Little Miss BB made a rainbow Build a Bear with her Easter money – kindly given by Grandma and Grandad Pooh bear. It was lovely to just wander. I had a mooch in John Lewis at the pushchairs. However I enjoyed just sitting with the children watching the world go by….and doing a spot of pushchair watching!
It was a lovely and very precious couple of days away.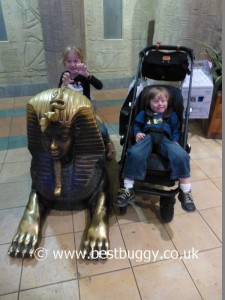 I am appreciating life right now……and this post comes with much love to everyone who knows me…..to all those friends and family members who I do think of regularly, but unfortunately life keeps us apart.