Search best buggy:

Bagabottles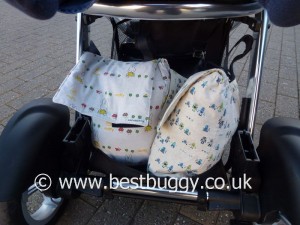 Bagabottles are fab storage pouches which can be used for almost anything! We use ours mainly for storing raincovers in, thus they usually stay in the car unless needed.
However the one large central space means that they could be used as a small changing bag; for baby food or drinks; for toys; for spare clothes; for a raincoat etc. We own several in different designs.
Bagabottles simply velcro on over a handlebar, or onto a side bar of a pushchair chassis.
Bagabottles, along with matching bottle holders, can be bought on Ebay.
Other Bagabottles Reviews: