Search best buggy:

Creating Magical Memories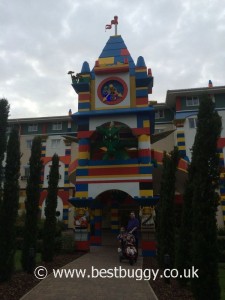 We have had a whirlwind few years….to be honest, I think from the time I met Mr BB, everything has been a whirlwind!
Mr BB said that we need to create and lay down some memories. I have been desperate to take my children down to Legoland, Windsor for some time. So this year, I decided this was the time to go! We took advantage of 2 inset days before half term, to head off to one of the most amazing hotels I have ever stayed in (and I have stayed in some pretty amazing hotels in my time!)
From the minute you arrive, the Legoland hotel is a WOW! Little Miss BB was a little disturbed by a roaring dragon above her head, but we thought it was an awesome entrance to a hotel!
The WOW factor continued inside the hotel. The lobby had a pit full of Lego. Above our heads were rotating flying machines – aeroplanes, balloons, and a submarine etc. The pictures on the wall were made of Lego. Behind the receptionists were thousands of Lego people on a back wall, which were highlighted by a moving Lego man with a large magnifying glass.
We were totally unprepared for what met us as we stepped out of the lift…..we were on board a pirate ship! WOW WOW WOW!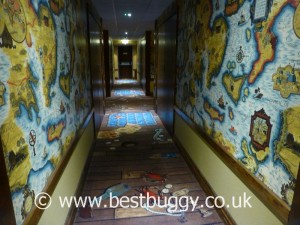 We walked the decks to our room where once inside the door, the ship theme continued: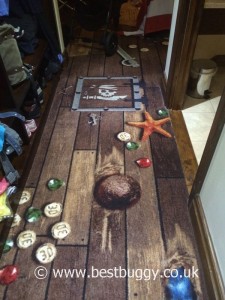 We had surreptitiously ascertained that Little Miss BB liked the pirate themed room the best, and I think the best part of the holiday was hearing her, and everyone exploring the amazing Lego themed room.
Master BB took charge of the Captain's bed and showed us his best Makaton "sleep" sign: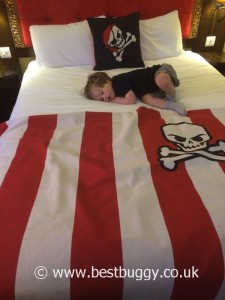 Little Miss BB climbed into her pirate bunk, where she was quickly joined by Mr BB, who was just as excited as she was to be on board ship!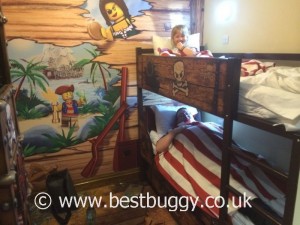 I believe that having your own TV was part of the reason bed suddenly became more attractive than it is at home!!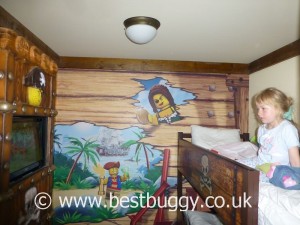 However, the Legoland hotel leave treasure for their young pirates to find. Clues are left to crack the code to the safe: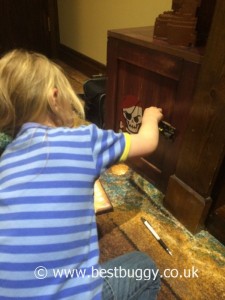 Great fun!!
We loved the attention to detail. I could stay here all night telling you about the pirate buttons on the bed head, or the Lego creatures on the bathroom wall, or the Lego butterfly and dragonfly on the walls….but here is my favourite – the monkey!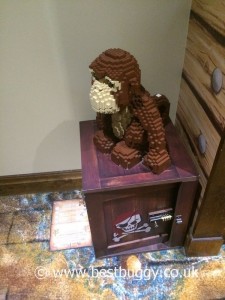 The view from the window gave a tantalising taste of what was to come the next day!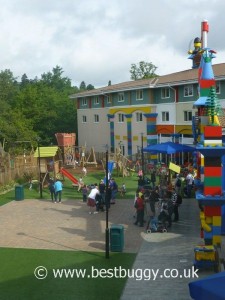 The next morning, we were up bright and early to take full advantage of the 30 minute head start which hotel guests get in the park before the main gates open. This was fabulous because by the time the first day guests were filtering into the park, we had already done the boat school and the driving school. Little Miss BB needs some practice at steering before they let her loose on the 6+ driving school!!!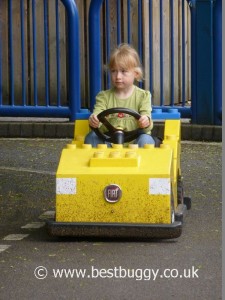 Meanwhile Master BB got in some driving practice of his own!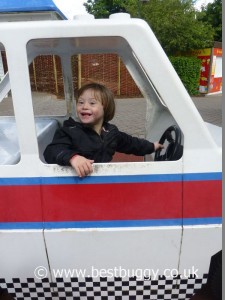 We literally had two days of fun, fun fun. We did get very wet at times – partly in the name of yet more fun (believe me the train ride is not as innocent as it seems – I got saturated!), but also when thunderstorms hit. Master BB stayed dry under his raincover, whilst Little Miss BB resigned herself to being wet and continued having fun!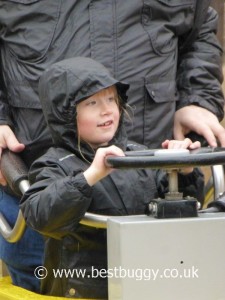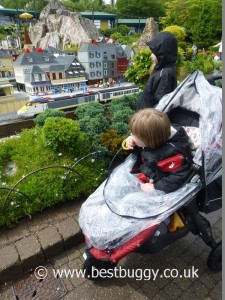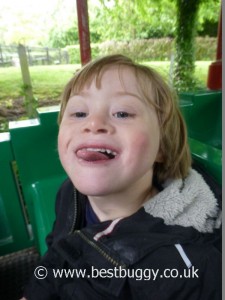 When we had had enough fun, we headed back to the Legoland hotel and had a swim in their small but perfectly formed swimming pool, and splash pool or played in the pit of Lego. The hotel provided entertainment – dancing and meeting Lego friends which the children enjoyed. As for the adults – well the Bricks restaurant food was absolutely delicious. There was a wide range of foods on a buffet style layout. It was worth every penny. Beautiful.
I wish we could say the same for the rest of the Legoland food. Little Miss BB has Coeliac Disease. We spoke to Legoland before our trip and were told that several restaurants had gluten free options. Therefore we assumed feeding her would be no problem. However, we had not been forewarned that most of the restaurants were actually shut except for peak times. We felt decidedly uncomfortable that Little Miss BB could only eat a couple of portions of chips whilst Master BB had a proper meal. Try explaining to a 5 year old that she can't have a decent meal


She was incredibly good about it to be fair.
We did some more research back at the hotel and we discovered that the pizza / pasta restaurant did gluten free options. So we planned our second day around having lunch there. What a difference! The staff had no problem making Little Miss BB her own pizza and her own garlic bread! Absolutely superb service and it certainly made up for the day before!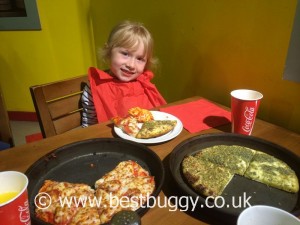 We had an amazing time in Legoland. Little Miss BB amazed us by loving the big rollercoasters ("My hands were in the air the whole way round!") Master BB had a great time too. As a family, we had a fabulous few days. I had been to Legoland many times before, but staying in the Legoland Hotel really was the icing on the cake.
We definitely created magical memories, and we absolutely can not wait to go back again to Legoland, Windsor.