Search best buggy:

Mamas & Papas Armadillo City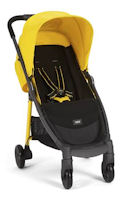 Mamas & Papas are adding the new Armadillo City to their range of strollers in September 2014.
The Armadillo City is smaller than the Armadillo. However there has been no compromise on child comfort. At just 50cms wide, the Armadillo City will fit into even the narrowest of spaces, making city life, public transport and shops easy.
There is a full recline and a large hood with UV50 fabric and a peekaboo window. The brake is easy to use, and there is a large shopping basket. The Armadillo City can be carried easily when folded, using the carry handle. There is an autolock and all round suspension. The wheels are smaller.
The folded Armadillo City is 71 x 50 x 24cms.