Search best buggy:

Mum to a 6 year old?! How did that happen?!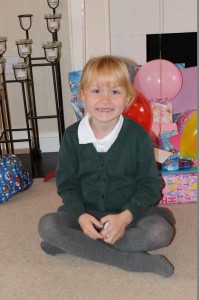 Last week, Little Miss BB celebrated her 6th birthday. 6 years old!? Where did the last 6 years disappear to? I feel like time has simply accelerated away since she entered the nursery / school system…..Wow!
However, Little Miss BB is 6 years old, and beautiful with it. I know I am hopelessly biased but she is so pretty. She is the perfect daughter. She works hard at school, and often comes home wanting to do maths or to read. She seems to have good friends at school which I am really happy about. She loves being creative and making things. She is a fabulous big sister. She is a happy, helpful, kind soul. I am so proud of her. I love her more than I can ever tell her.
Little Miss BB got a 'grown up' 2 wheeled pink scooter for her birthday. The pink is important when you are 6 years old! She got lots of 'Frozen' bits and pieces too.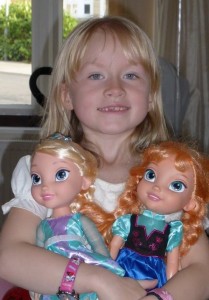 She and Master BB shared a birthday party at the weekend. Master BB's birthday was right at the end of the summer term, so we decided to wait to have his party, until the start of this year so that we could invite some of his new friends from nursery.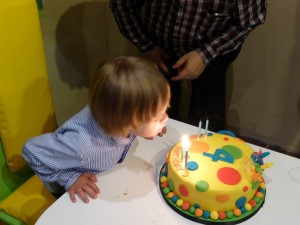 Master BB astounded us all by blowing out all his own birthday candles! He was an absolute star and he loved every minute – seeing him amongst his friends, playing 'pass the parcel' and exploring the soft play all the way to the top was amazing.
Every day he seems to grow and change. Master BB has learnt to 'sing' the 'E,I,E,I,O" part of 'Old MacDonald' really clearly. He will sign the letters on his fingers too. He is now starting to read at school and he can now read about 10 words which are now being put into pairs of words. He has started swimming lessons. He cried solidly for the first two lessons, but once Daddy got in the pool with him, the last two lessons went really well. He's got the hang of doggy paddle, breast stroke and even front crawl arms! He just needs to work on kicking his feet now!
I really felt for Little Miss BB at the party. Having Coeliac Disease, on top of Type 1 Diabetes, really is pretty rubbish. I can't begin to tell you how brave and stoical she is – all the time….. but especially on the really bad days, when for example, she has had to have several cannula changes, extra blood tests, and been woken up to eat glucose tablets.
Little Miss BB often tells us it isn't fair that she has Diabetes and Coeliac Disease, and we totally agree. However, there is very little we can do about it except to try to make life as good as we can for her. However, it felt really unfair that she was unable to eat the same party food as her friends, at her own party. We did make her a special lunch box up with her favourite goodies. We found an amazing lady who made us two gluten free cakes, and who with a little help from another lady, decorated them beautifully. My daughter was SO happy to have her dream Disney 'Frozen' cake.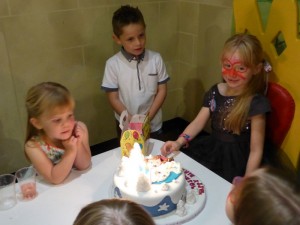 The party was absolutely great. We were surrounded by good friends and family. Although there were children from 4 different school years, they all got along very well.
Our two children were wide awake when we got home (past their bedtime), so we let them stay up and open the presents which people had kindly bought for them.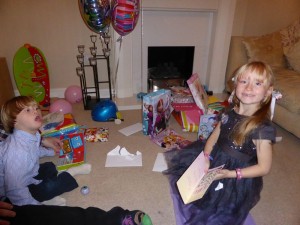 Then it was off to bed! Mr BB and I celebrated surviving 6 years of parenthood, by sneaking a gluten filled takeaway into the house! A very rare treat here!