Search best buggy:

A Special Wish for Two Amazing Children
Back in January, we were told that our two amazingly brave and stoical children, had been granted a special Wish, from the When You Wish Upon a Star charity. We were told not to tell the children until nearer the time.
Little Miss BB has Type 1 Diabetes and Coeliac Disease. Master BB has Down's Syndrome and bilateral hearing loss.
Little Miss BB has been incredibly brave through hospital stays, injections, having cannulas and sensors inserted several times a week and generally feeling unwell at times. This year she had the extra blow of being diagnosed with Coeliac Disease. However Diabetes and Coeliac Disease are not just physical diseases. Little Miss BB unfortunately has had comments made by curious children wanting to know what her tubing is for; why she has blood tests etc. Little Miss BB has had to go without certain foods at parties or when food is given in school etc. We do our utmost to provide her with alternatives, but sadly it isn't always possible. Little Miss BB is unbelievably brave. Being hypo can affect the brain for up to two hours, so we work hard to keep her stable which takes a lot of hard work and complicated maths!
Master BB meanwhile has spent huge chunks of his life in hospital at various appointments. By default Little Miss BB has spent a lot of time there too. Master BB has a lot of therapy on a daily basis – speech therapy, physiotherapy, occupational therapy, input from the hearing and visual impaired teams and pre 5 service as well as doing the things a typical child should be learning and doing through play. He has had some difficult times too.
Today, with a little help from Santa's Elves at the Card Factory and Loxley's cards, and from the children's school, Little Miss BB's form teacher surprised Little Miss BB in her class with a giant invitation from Santa Claus, to invite her to visit him in Lapland.
We aren't allowed to share the video taken in school, but suffice to say Little Miss BB was extremely surprised, and couldn't quite believe it! It was absolutely magical.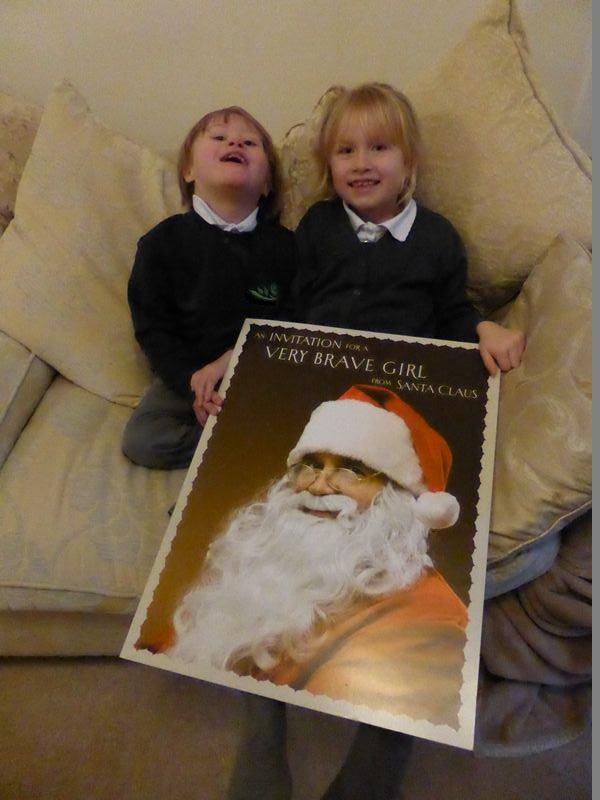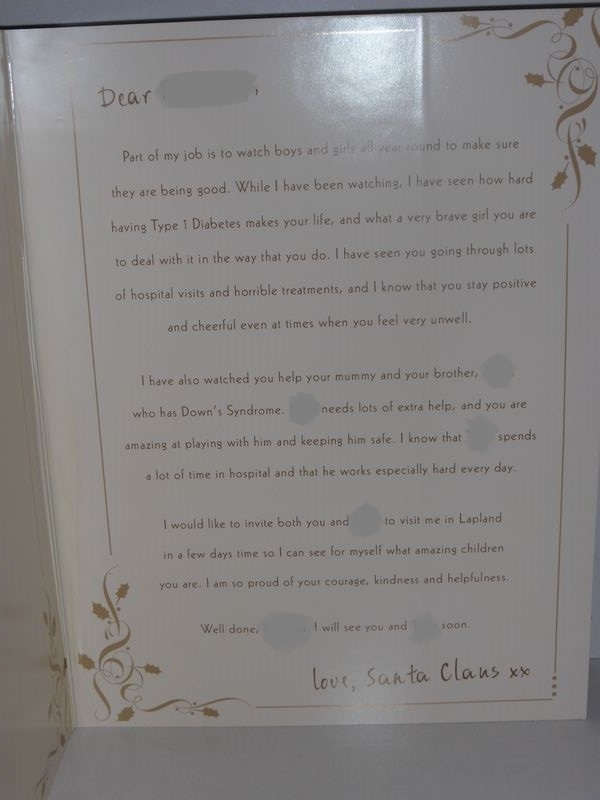 Here is Little Miss BB, aged 6, talking about what happened when she arrived home:
I think she is a little bit excited! I know we certainly are.
Master BB doesn't understand at present what is about to happen, but we are sure that the experience and the sensory stimulation will be amazing for Master BB, and hopefully he will remember the trip for years to come.
Both children deserve every bit of happiness, joy and fun which this trip will bring them.
Thank you very much 'When You Wish Upon a Star" for making all our dreams come true!
If you would like to donate to help fund next years trip, then here is the Just Giving page for When You Wish Upon a Star.