Search best buggy:

Creating Magical Memories – Visiting Santa Claus in Lapland!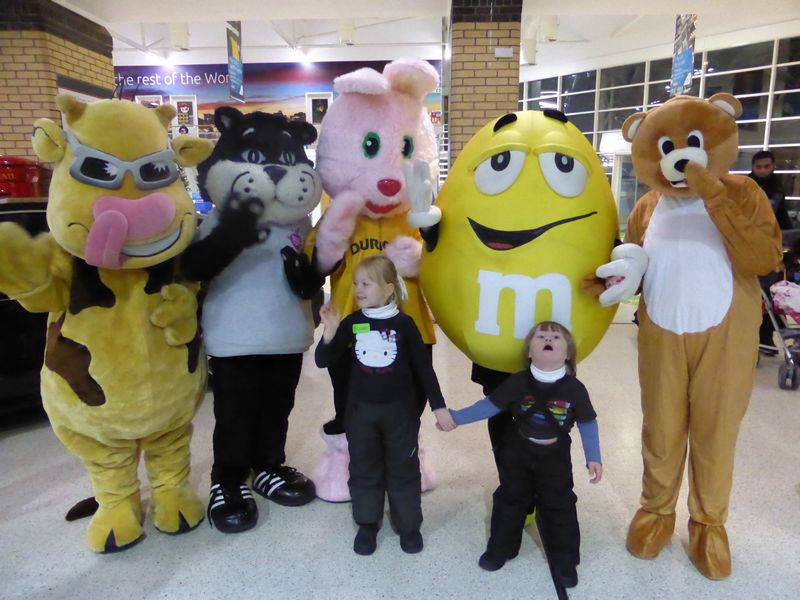 This was the scene at Humberside Airport at 4am on Wednesday 3rd December. Little Miss BB and Master BB were greeted by various characters as they began the journey of their lifetimes, to go and visit Santa Claus in Lapland, Finland!
Little Miss BB and Master BB were very kindly invited by When You Wish Upon a Star  to go on one of their three annual trips to Lapland. They were invited because of their bravery, courage and stoicism with their respective disabilities – Little Miss BB has Type 1 Diabetes, and Master BB has Down's Syndrome and hearing loss.
Neither child had flown before, and Little Miss BB was desperate to go on an aeroplane!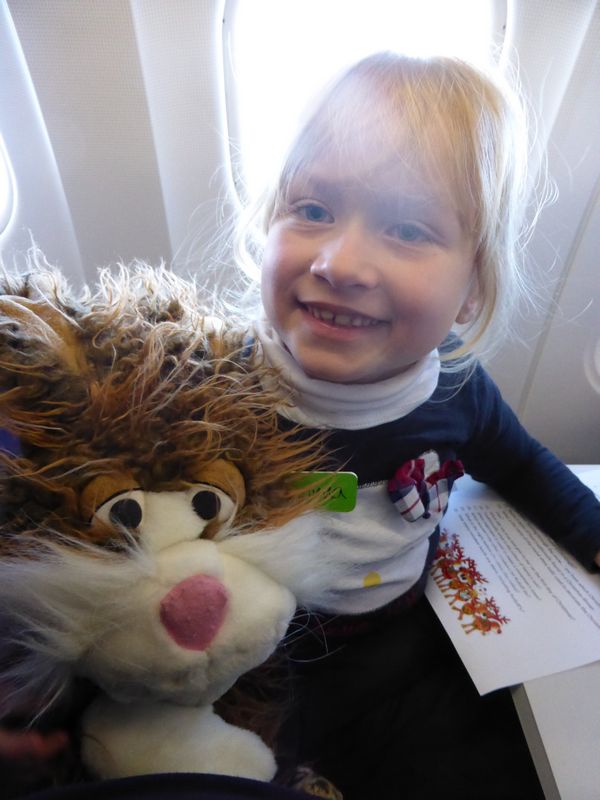 Little Miss BB got her wish, and the Monarch airline took off with a plane load of  81 very special children, their parents, some celebrities, paramedics, doctors, lots of helpers, press photographers and reporters, Chris the Moose, and Nutty Norman the magician with his cat (who Little Miss BB is looking after here!)
Master BB was less impressed and he was asleep even before the aircraft had reached the runway. We had all been up since midnight though!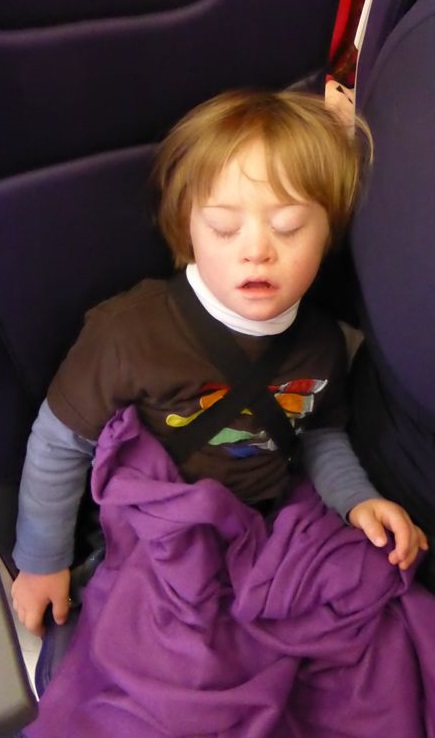 After breakfast, some magic tricks, and some joke telling and carol singing over the tannoy system, it was time to put on our winter gear and prepare for landing in Rovaniemi in Finland. I will admit to being a little nervous as we zoomed along the runway to land on a sheet of snow and ice!!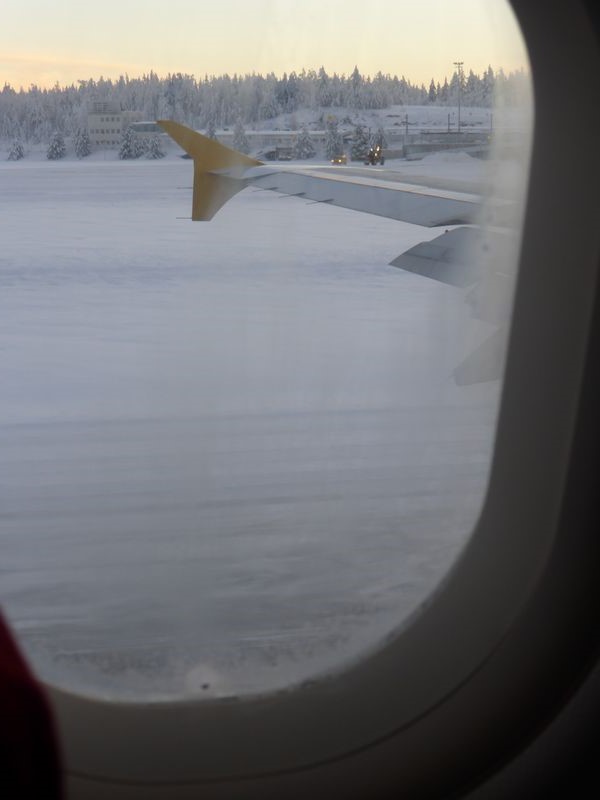 However, we landed safely in Rovaniemi.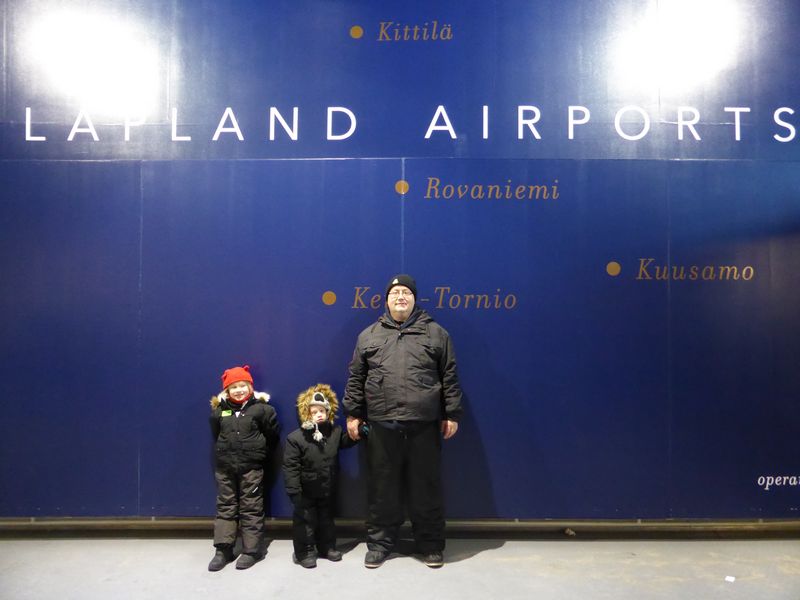 We all piled onto coaches and headed off to the Enchanted Forest. The scenery was breathtakingly beautiful. There had been fresh snowfall, and it was a beautiful day.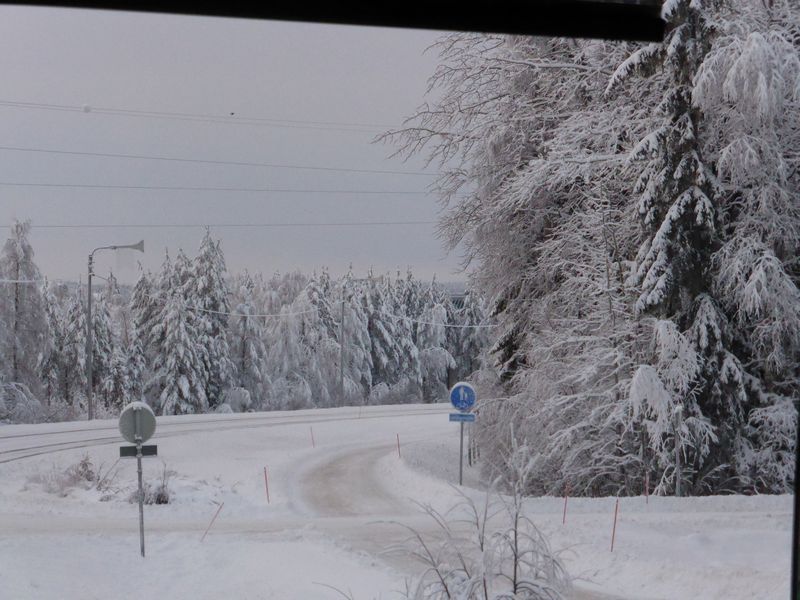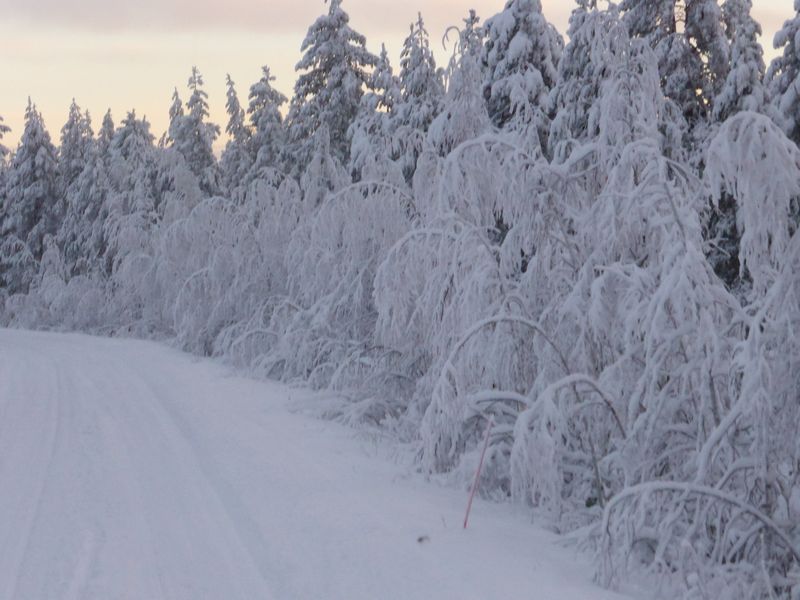 We could not believe the roads which these coaches were driving along. The top road is the main road from the airport into town!
It only took a few minutes before we were in the Enchanted Forest.
We were greeted by all the creatures who live in the Enchanted Forest who were there to help us all have an amazing time. The children clambered onto sledges and off we went. First was the quad bike ride through the forest: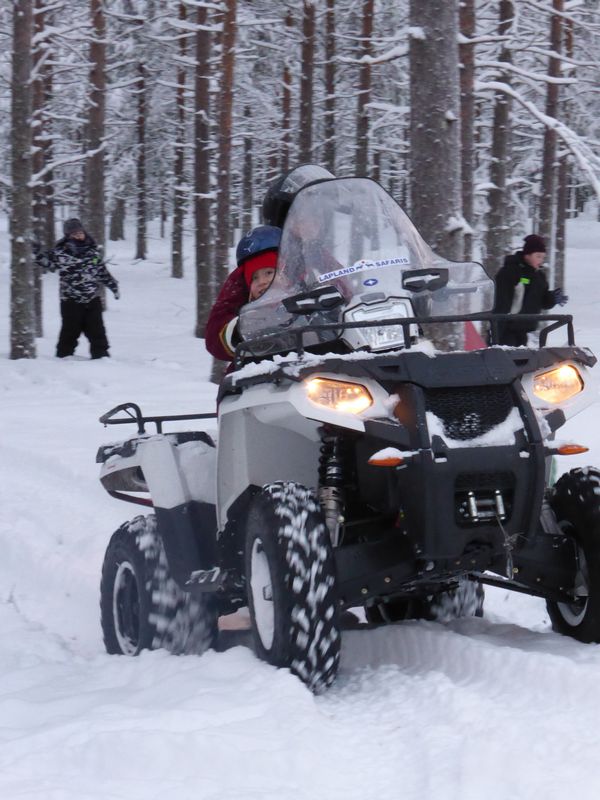 The snow was deep in places! It is past Master BB's knees here. He was not impressed that it was so cold and wet!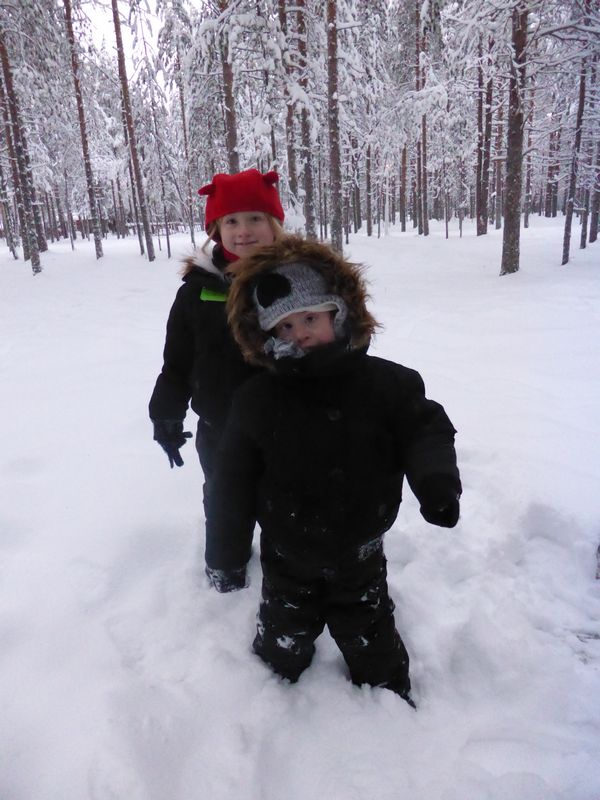 Little Miss BB, however, couldn't wait to make snow angels in the fresh snow!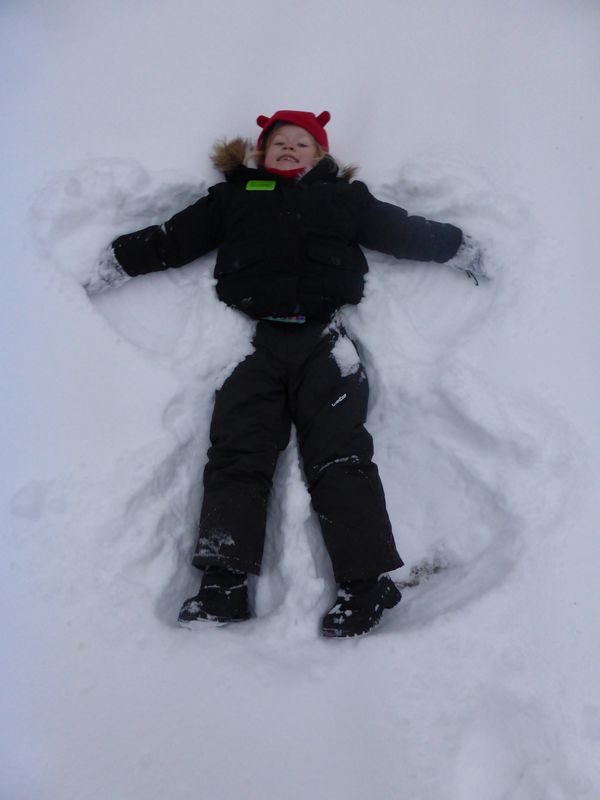 We had a Husky Dog sledge ride, and then it was time to go sledging, with a helping hand from one of the Forest Creatures!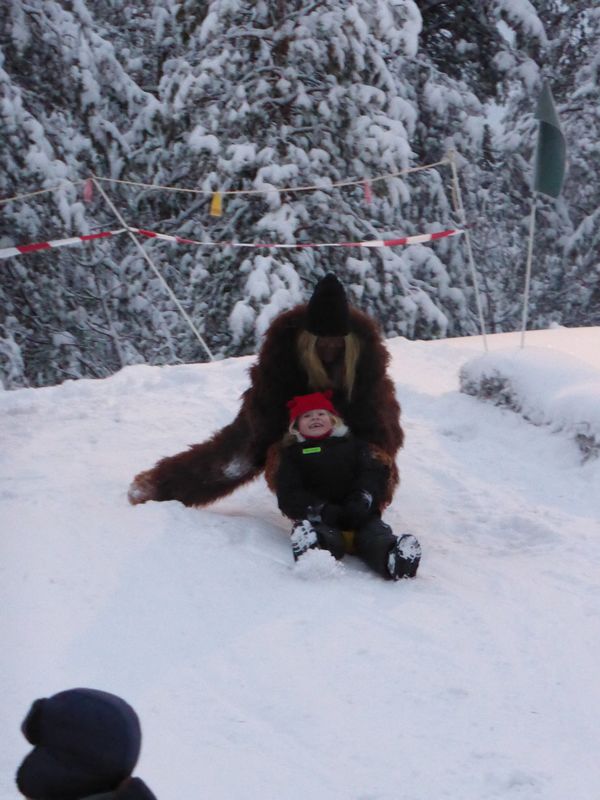 It was lots of fun!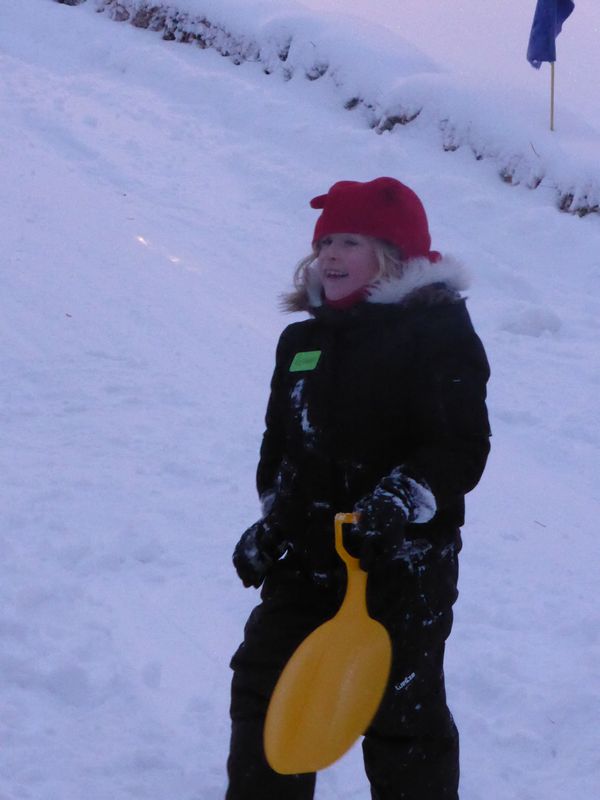 Master BB meanwhile was tucked up on a sledge.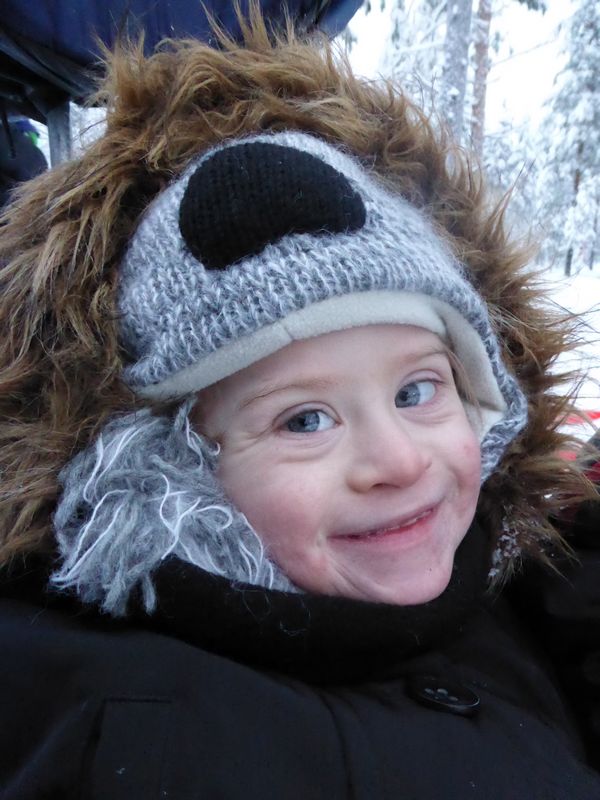 The snowmobiles were next. Little Miss BB couldn't wait to have a go!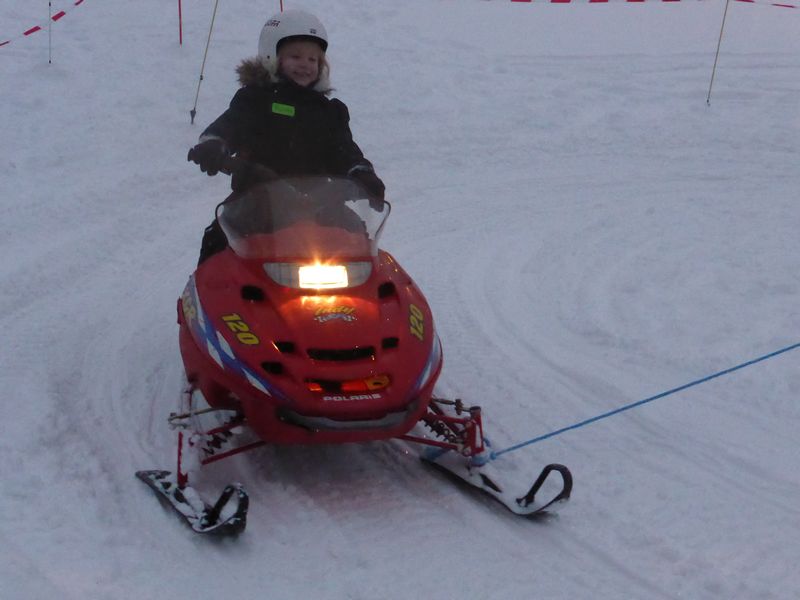 Master BB signed "car" and despite hating wearing any kind of hat, he couldn't wait to get on his crash helmet and have a turn too!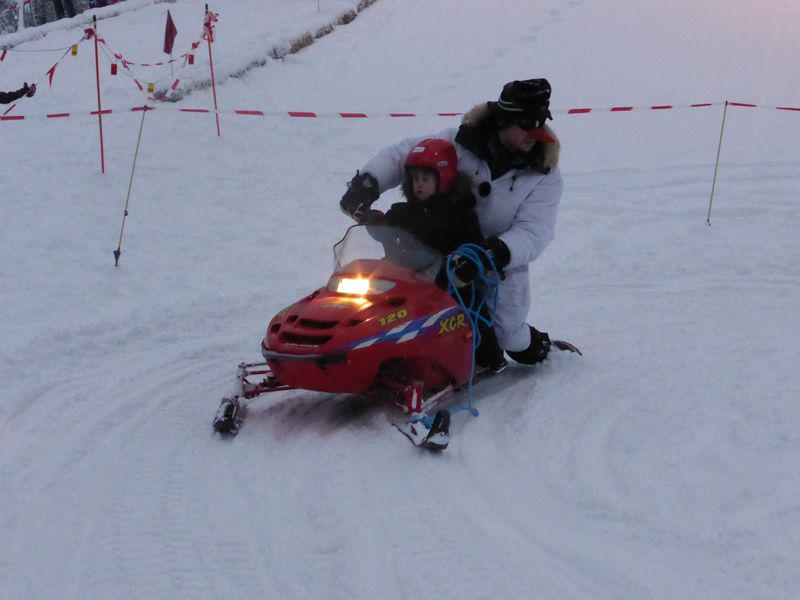 We headed back up the hill to see Santa's beautiful reindeer with flakes of snow softly falling around us.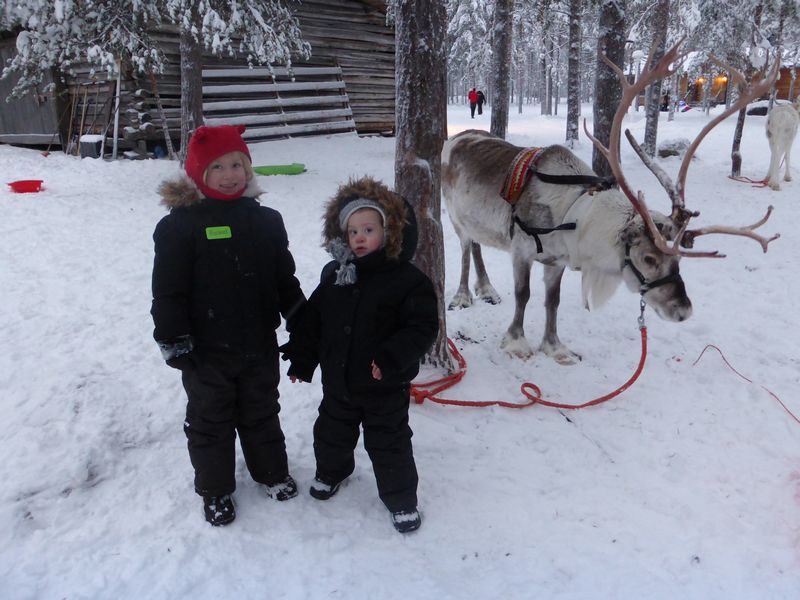 This reindeer ran away from Little Miss BB, but it couldn't wait to say 'Hello' to Master BB, and it let Master BB stroke its nose.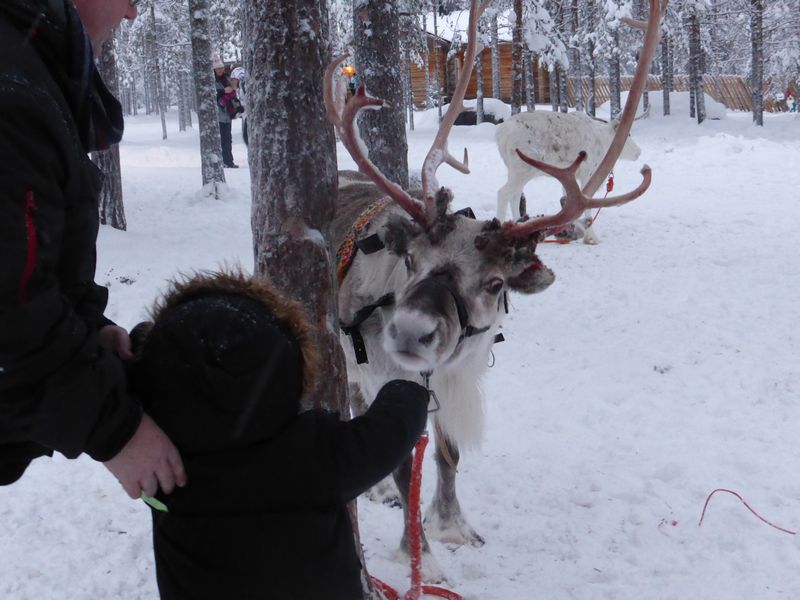 We had a magical Reindeer sleigh ride around the forest.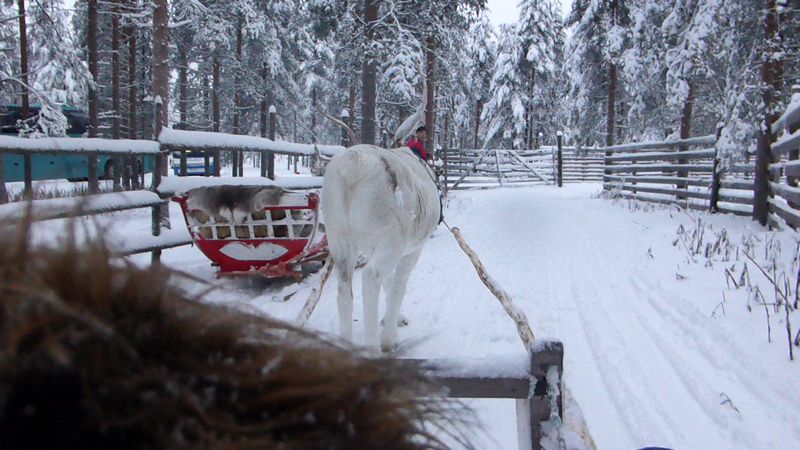 It was a little strange to be overtaken by a Reindeer – or indeed to have one walking so close next to you!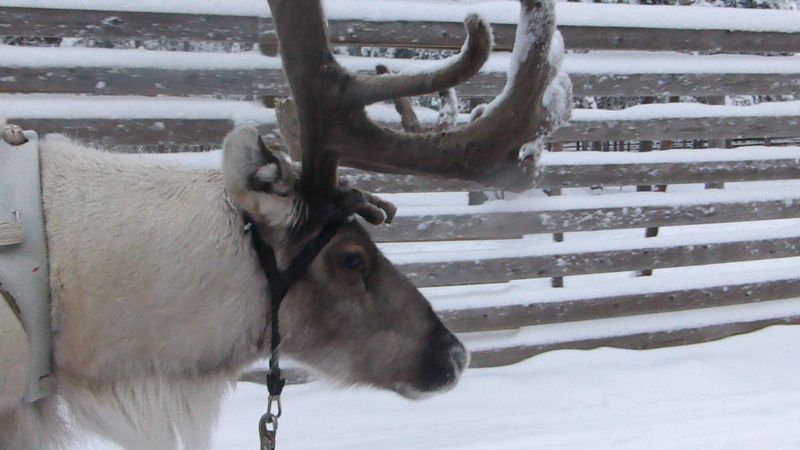 There was time for a quick hug with a friendly wolf!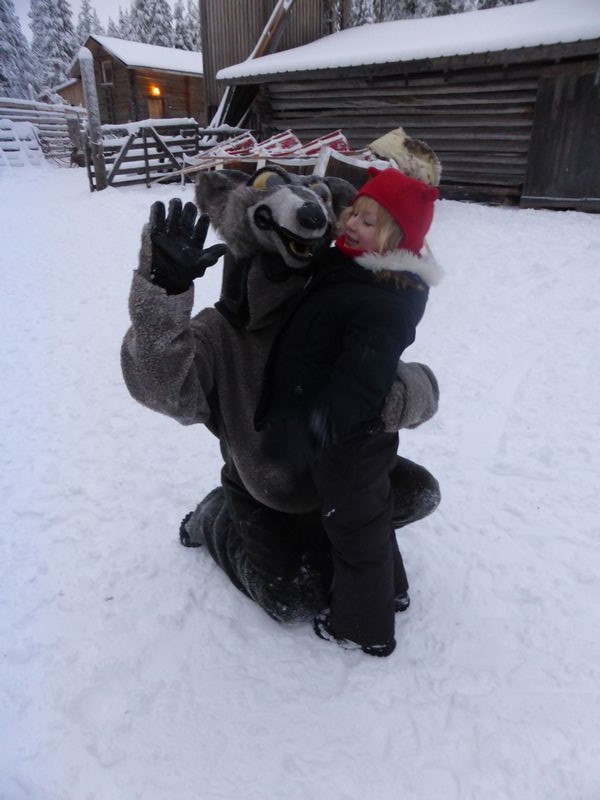 Before having warm mugs of  hot chocolate, hot sausages and toasted marshmallows over an open fire.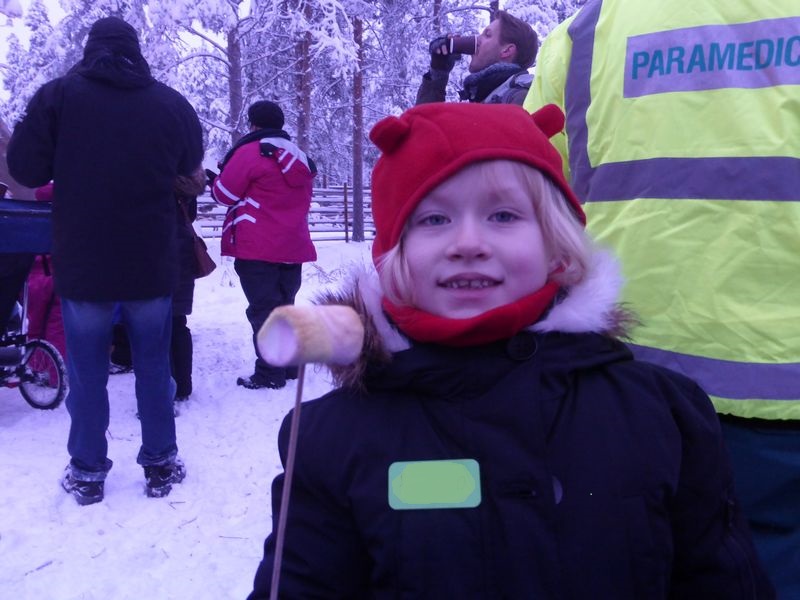 As we sat and warmed up, night was already falling. There is only 3 and a half hours of daylight in Lapland at this time of year. The temperatures can drop as low as minus 37. However they can equally have some of the hottest days in Europe in summer – up to 37 degrees C!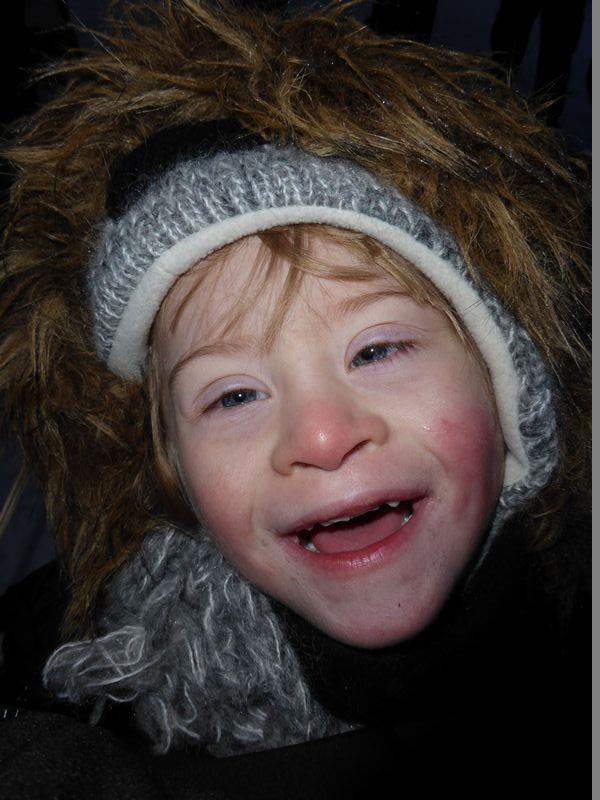 A stunning firework display lit up the forest to end our time in this magical snowscape.
Next stop was the hotel for lunch.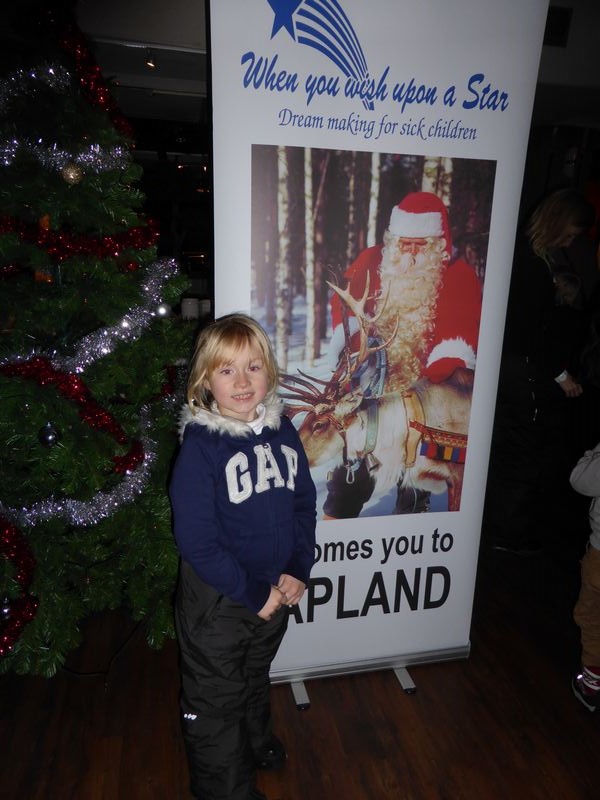 It was amazingly only 1.30pm UK time, but it felt like 8pm at night!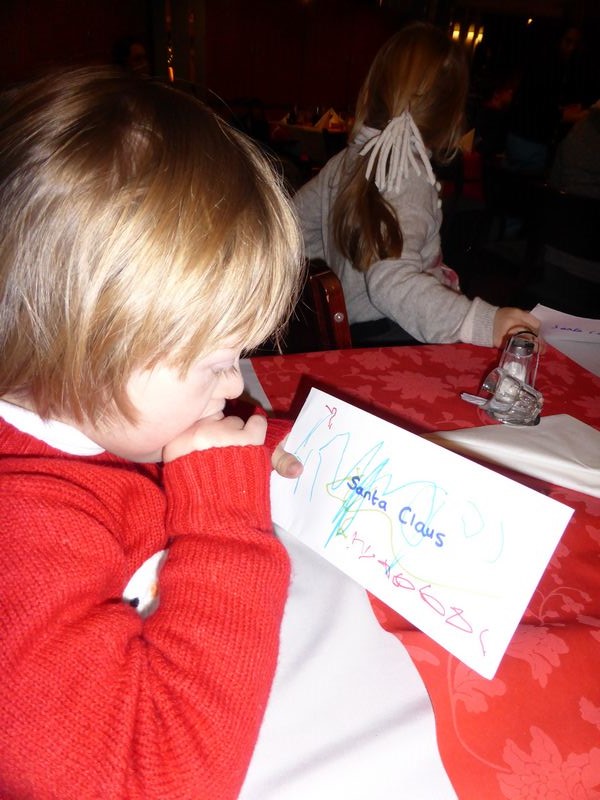 The children had each written a letter to Santa Claus.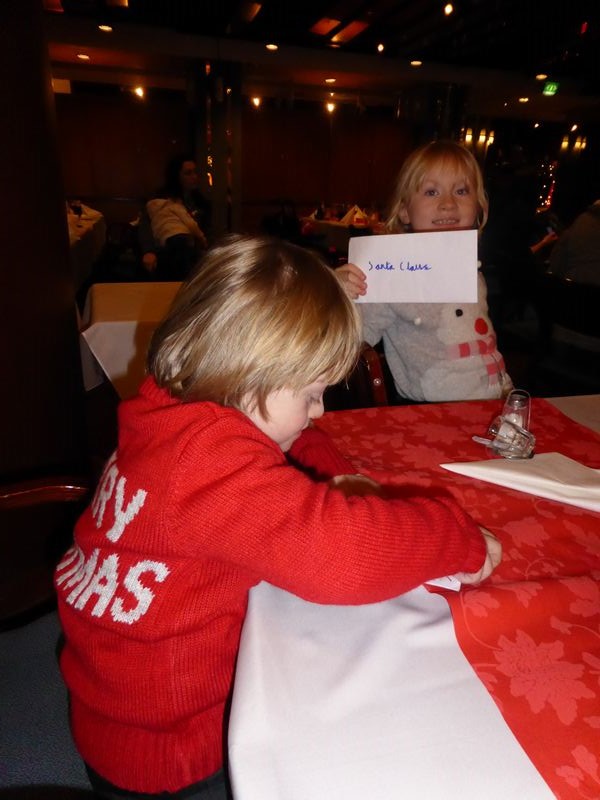 After a rousing song of 'Rudolph the Red Nosed Reindeer' led by the Celebrities, Santa and Rudolph appeared at the window, before they came into the room – yes even Rudolph came in!
It was an emotional moment seeing our two very special children meeting Santa Claus. These were the minutes that we had waited almost a year to see.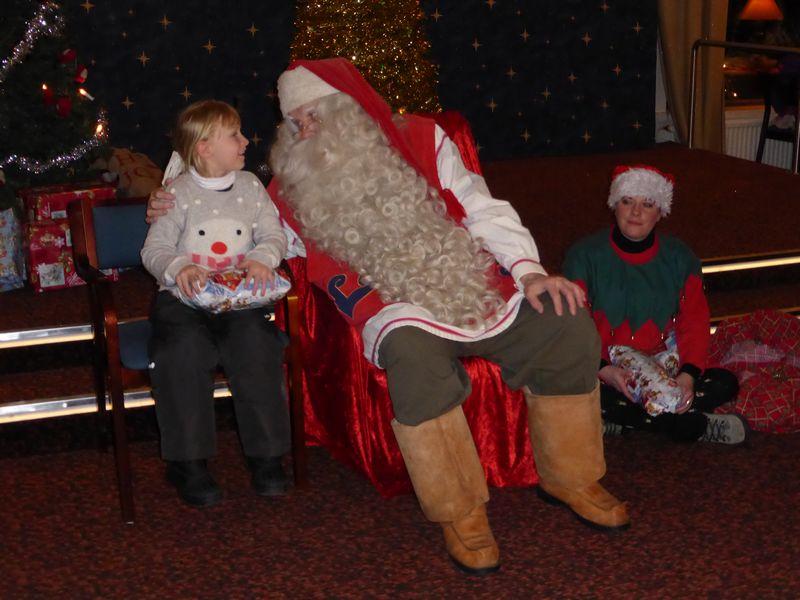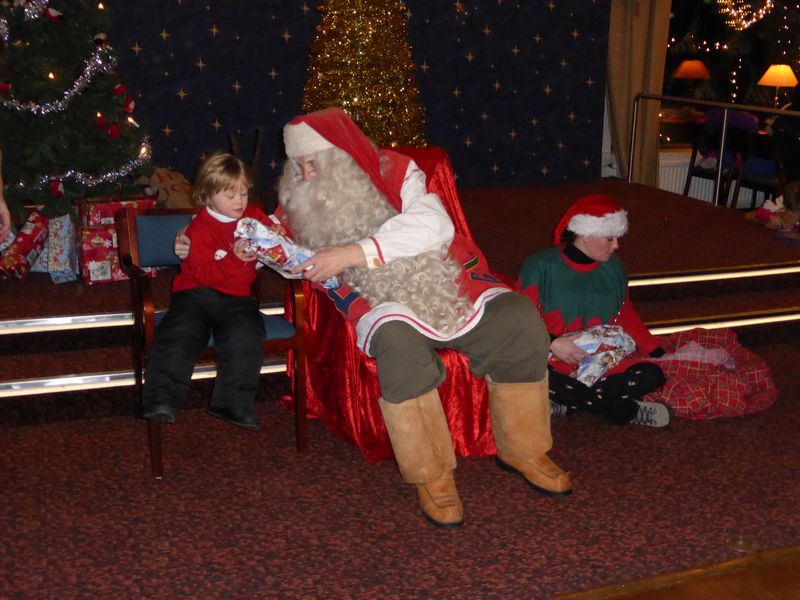 Little Miss BB wanted to go and say 'Hello' to Rudolph:

Before having a cuddle with her own Rudolph: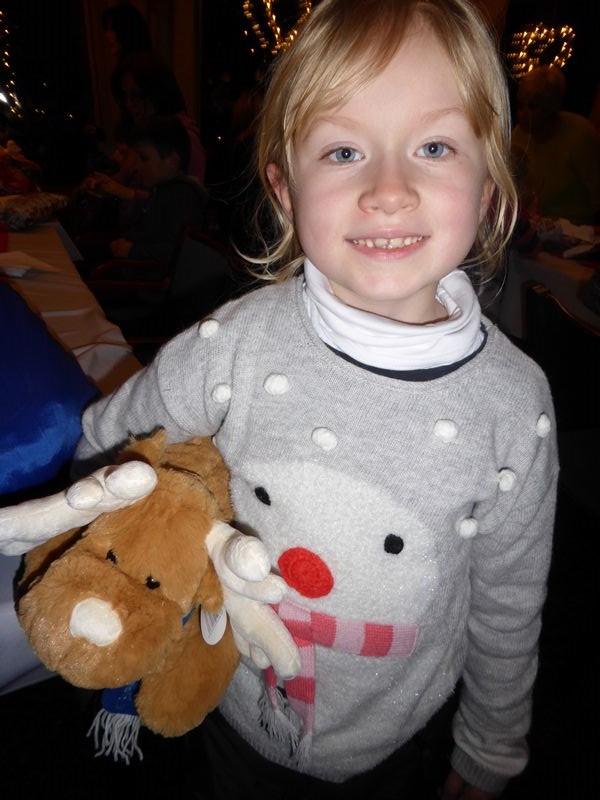 After lunch we headed for Santa's Village and importantly, to his Main Post Office! His elves were hard at work, sorting out all the letters, from children from all round the world.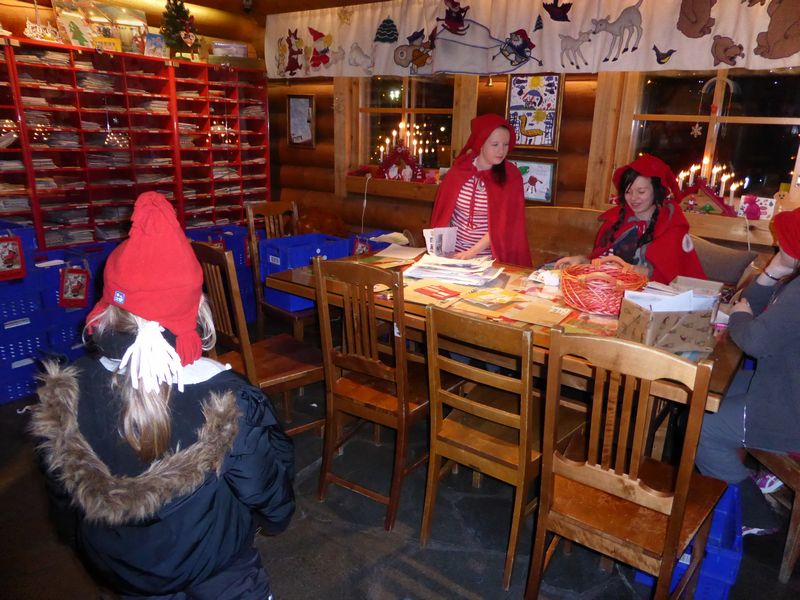 Little Miss BB had a quick go on Santa's rocking chair! Shhh! Don't tell Santa!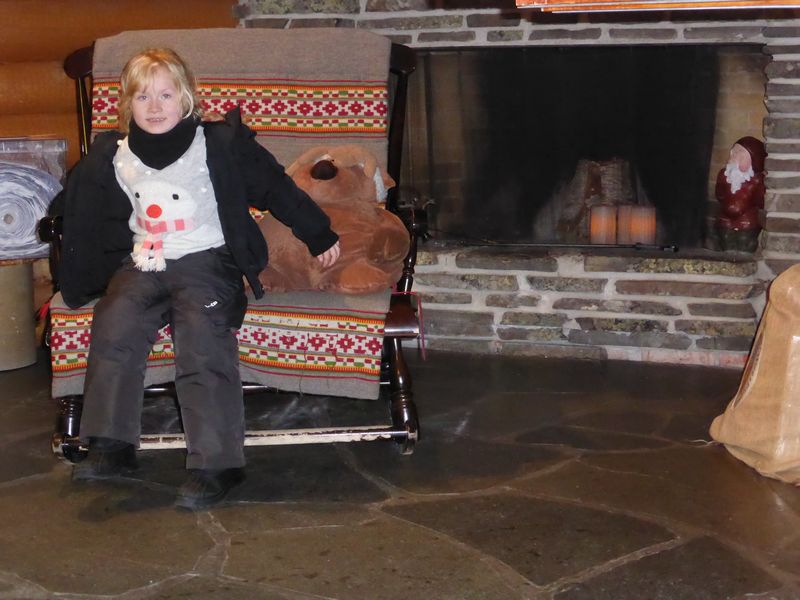 We headed back outside into the snow to cross into the Arctic Circle!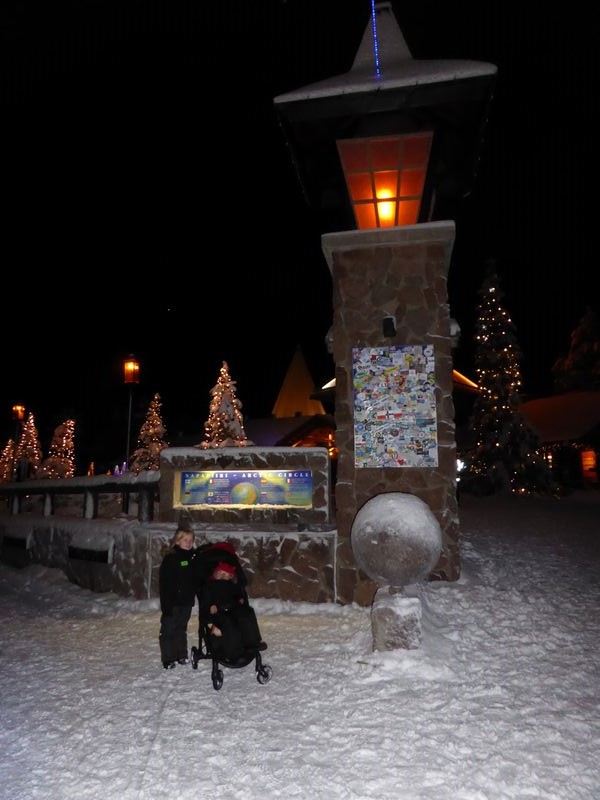 Little Miss BB had a sledge ride down the huge ice slide: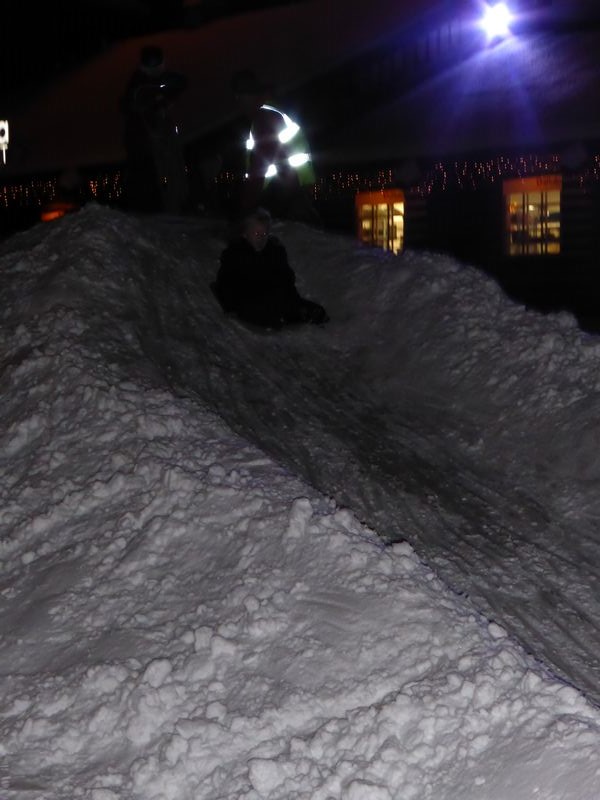 Master BB took time out to enjoy the amazing view at Santa's Village on the edge of the Arctic Circle: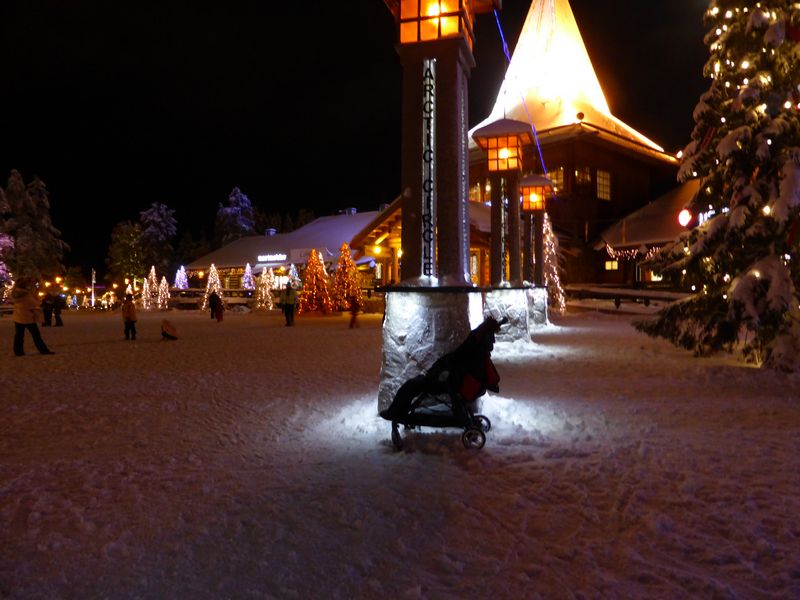 There was time for a quick sit in Santa's Sleigh before heading back to the coach.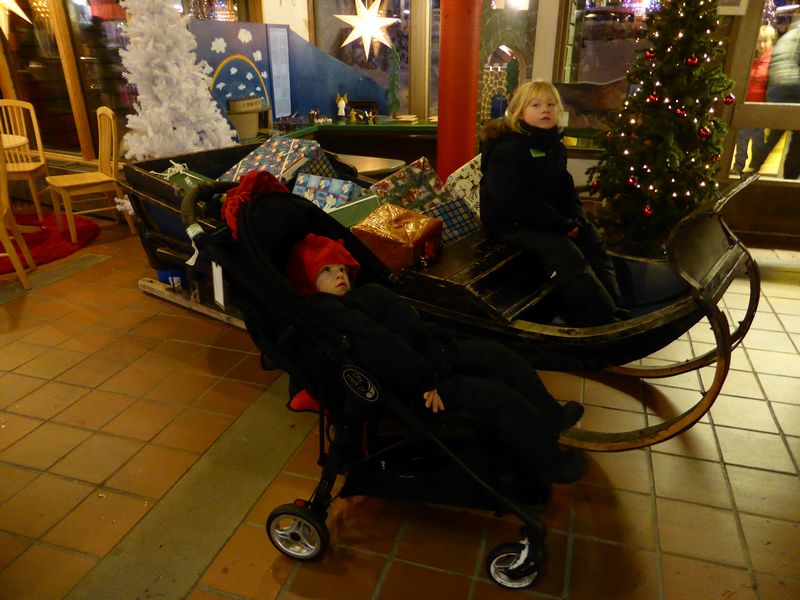 We were quickly back at the airport to board our flight home. The slides along the runway as the plane took off were a little unnerving, so I was pleased when the aircraft headed off into the sky.
After tea, both children in turn fell asleep. Waking them up at Humberside airport was so hard. One of the lovely helpers, carried Master BB down the steps for us. The walk back into the airport building was one of the longest of my life! My feet hurt SO much. We were the last people through passport control and customs. As we walked through the last electronic doors into the airport building we were hit by a barrage of cheering, cameras flashing, a film crew recording us, and the celebrities gave each child a goodie bag and two helium balloons. A huge choir started to sing a Christmas Carol, and it was simply an amazing way to end what was one of the best days of all our lives.
We want to thank everyone enough who made this trip possible for our family.  The 'When You Wish Upon a Star' team and all their helpers were amazing. We want to take time to thank anyone who has donated money to the charity, to make dreams come true for special children, like ours.
Life is about creating memories that you can hang onto, and we created so many memories in Lapland, to treasure forever.
THANK YOU!!