Search best buggy:

Finding the Right Car Seat for a Child with Additional Needs
Before Little Miss BB was born, We headed off to a lovely independent retailer (sadly now closed) who were exceedingly helpful and patient with what was a really tall order. We had a convertible car, where the hard roof folded into the boot. We were in no hurry to give this car up for a baby, so the baby's pushchair had to fit under the folded roof, and the infant carrier, on an Isofix base (for ease of fitting because the car was 2 door), had to fit in a relatively small space behind the passenger seat. Eventually, we narrowed the field down to just two infant carriers which would fit out of all the possibilities – a Recaro one, and the Maxi-Cosi Cabriofix. We bought the Cabriofix, and it has appeared in many of our photos here on Best Buggy.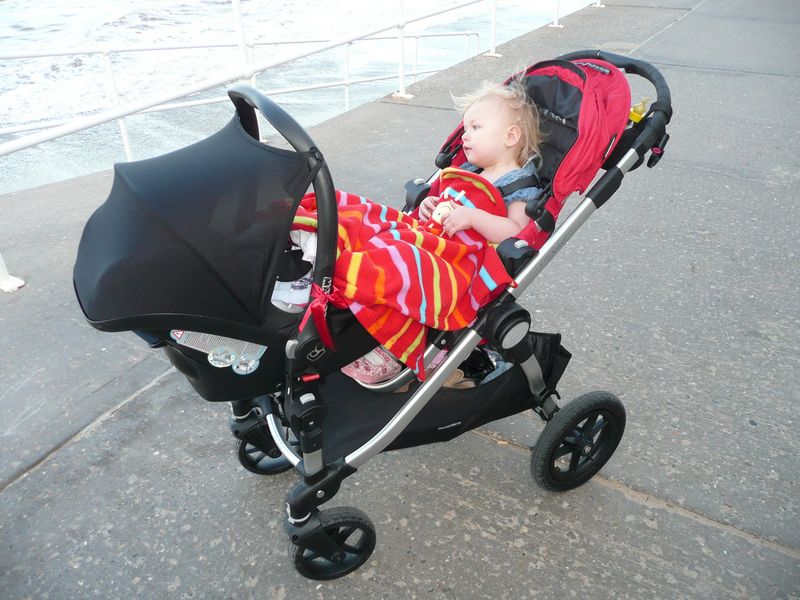 I was always thankful at the time, that we bought the Cabriofix because it has been such a versatile infant carrier, and has been on many of the pushchairs we have owned over the years. Now there is so much more choice of infant carriers which fit on 'maxi-cosi adaptors'.
When we needed a Group 1 car seat, we chose a reputable brand, and ended up with a Britax First Plus seat, which our tall Little Miss BB grew out of much more quickly than hoped. We lived in the middle of nowhere – an hour to the nearest car seat retailer – so we ordered a Group 1/2/3 seat online. However, the seat did not fit my bucket shaped rear seats. That was an important lesson – go to a retailer and have a car seat properly fitted! That seat got returned, and we did the trip to the retailer, and bought a Britax Evolva 1-2-3. It served us well for Little Miss BB. She fitted in it great. It was tricky to wash if necessary and the fabrics bobbled across time, but it felt a good chunky, sturdy seat. We had planned that she would stay in this seat until she grew out of it age 12 or so, but this all changed when Master BB was born with Down's Syndrome.
Down's Syndrome brings with it an entire dictionary of things that could possibly be wrong, or go wrong with your child……..never Google any condition from a hospital bed! In reality, the 100001 complications which could happen, probably never will. Master BB was observed at only a few weeks old for possible sleep apnoea. In the event, this proved inconclusive, and very recent tests are not currently showing signs either. However, Master BB was heavily monitored as a baby, which included when he was in his infant carrier. The only time his SATs monitor alarm went off was when Master BB was asleep in his Cabriofix. It was in the middle of a visit to a special school, in the middle of their assembly! I remember that day absolutely crystal clear as I quickly undid Master BB and scooped him out of his seat and into my arms. Thankfully he was all fine. However, if I had known then, what I know now, and there had been the choice available, I am quite sure that we would have had a lie-flat infant carrier to ensure his airway stayed open, so that he travelled safely at all times. We used to do some very long journeys. Most journeys were 1-2 hours, and some were 8-10 hours. However, lie-flat wasn't an option then like it is now.
As Master BB approached the change over from the Cabriofix to a Stage 1 seat, we started to think about what he would possibly need long term. Master BB liked to nap, so a recline was very important, especially with him having hypotonia. The Evolva 1-2-3 had a recline, but it set me thinking about whether we could find a Stage 2-3 car seat which also had a recline. This is quite tricky as not many Stage 2/3 seats have a recline. At the time, the only one we could find was the Maxi-Cosi Rodifix, so we bought one for Little Miss BB, with a view to her handing it over to Master BB when he was ready for it. What we didn't realise then, was that having a child with additional needs brings with it issues which seem tiny, until you understand how they impact.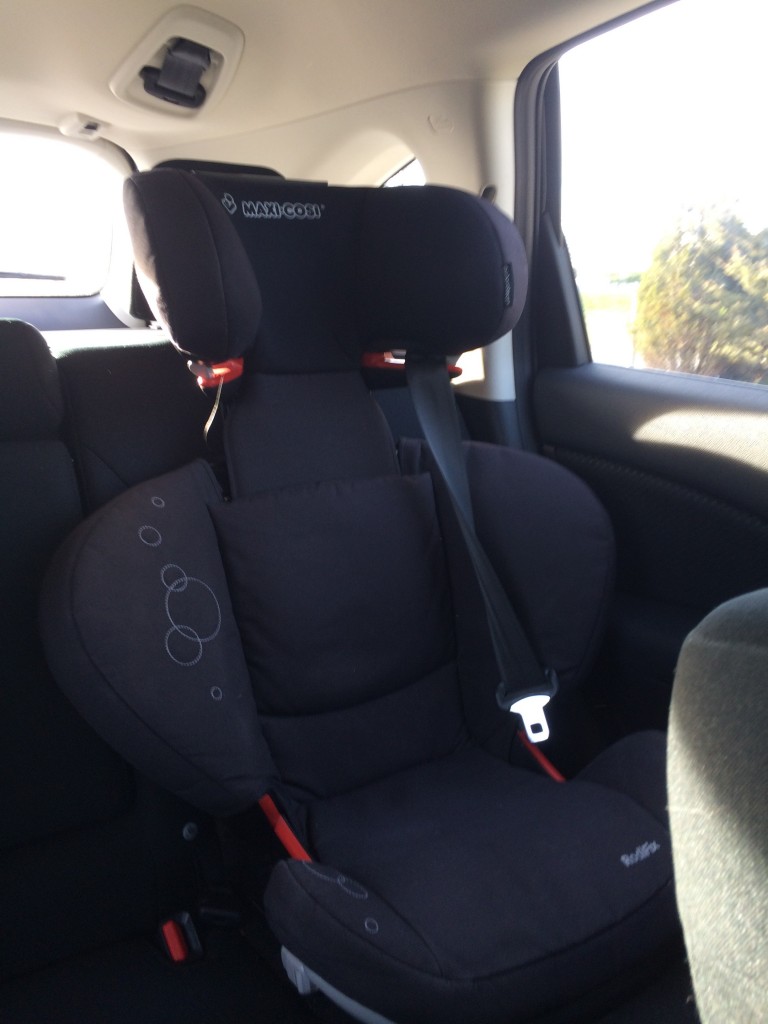 As Little Miss BB got comfortable in her Rodifix, Master BB was getting bigger. By the age of 2 and a half Master BB was causing us problems because of his increasing size, and the fact that he could not walk, thus needed lifting and carrying, including into his car seat. The Britax Evolva 1-2-3 has quite high sides; I have back issues; and the way I had to twist Master BB into the seat by lifting him higher than necessary was an issue. The Rodifix meanwhile had very low sides, and would have been perfect for Master BB, however, he wasn't ready for an adult seat belt yet. Plus, by this stage, we had concerns that he would easily escape the Rodifix, because Little Miss BB was driving us mad leaning sideways out of the seat (the side wings of the Rodifix widens the more you lean outwards) and Master BB's hypotonia means that he is more flexible than most children. So, we took advantage of the Harrogate Nursery Fair in 2013 to explore possible options. We fully expected to walk away with a Cybex Sirona because the swivel base would have been a huge advantage. We tried both children in the seat. Little Miss BB could just fit in, but Master BB could barely see over the huge impact shield. The Sirona thankfully no longer requires the impact shield when rear facing and would probably have suited our needs.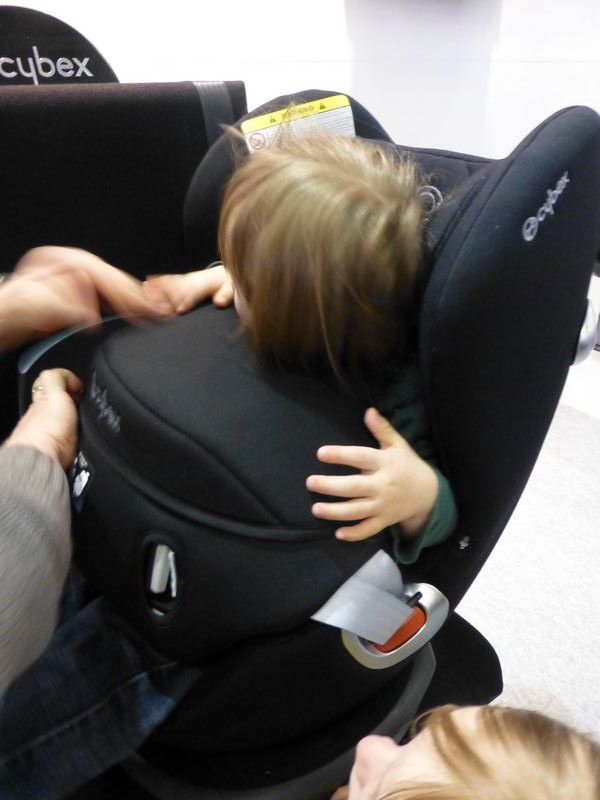 I struggled on for another year, whilst keeping an eye open for suitable car seats until one day Master BB undid his 5 point harness. That really scared me. I explored every option going including seat add on's like a Houdini Stop (it is against the law to add on anything to a Group 1 R44/04 car seat that involves more than a one step release), and a Crelling Harness. We ended up with an array of products, but none were going to stop our little Houdini from opening his buckle again. Thankfully at this stage, we were asked by Kiddy if we would try out a Guardianfix Pro 2 with both children. We were extremely dubious how Master BB would take to being pinned in with an impact shield. We really thought he would hate it, however, we were totally wrong! He absolutely LOVED having an impact shield. This photo is one of my favourites because he looks so happy!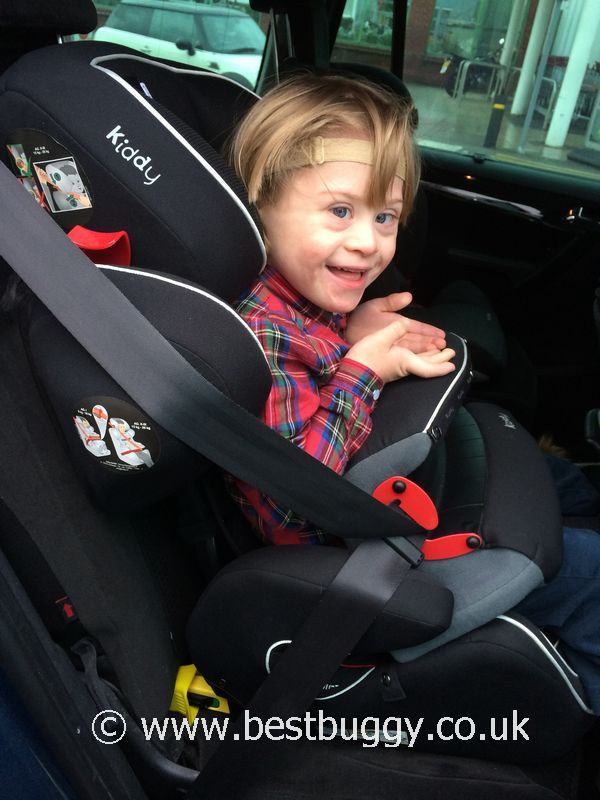 The seat was easy to get Master BB in. He never tried to escape – he would have struggled anyway! There was no harnesses to do up, so it was bliss push the impact shield quickly into place and belt up before he tried to wriggle out. All round we loved the Guardianfix Pro 2. Little Miss BB got a brief turn in it, and she announced that it was the most comfortable seat ever, and she did not want to give it back! However, the safety of her brother came first. Master BB stayed in this until he was around 16kg. However, we knew that transitioning him into a Group 2/3 car seat would be difficult. With very little understanding, and poor hearing, it was going to be a challenge to get 4 year old Master BB to keep his arm under the adult 3 point seat belt. We decided to take advantage of the cross over period between Group 1 and Group 2 (15-18kg) and the summer holidays to 'train' Master BB to keep his arms under the adult seat belt. All went fine at first, but he soon was trying to escape. Mr BB sat in the back with Master BB through most of the summer holidays, but we were struggling. With 18kg rapidly approaching we had to find a solution because I would soon be on my own again for the school runs.
First we tried a Belt Upp strap. I have to say, that all the time we used it I was not convinced that it was completely safe to extract Master BB quickly in the event of an emergency. However, we had a need, and this seemed to be the answer. I invested in an additional rear mirror too. So with my extra view of Master BB and Little Miss BB shouting at her brother to get his arm back in, we thought we had cracked it. However, this did not work when I was on my own!
In 2014, Britax launched the Advansafix. This seemed to be the answer to our prayers! A seat with a harness which would last up to 25kgs. We headed off to one of our favourite retailers, to buy an Advansafix. However, we were bitterly disappointed to discover that although the Advansafix can take children up to 25kg in a 5 point harness, there was no way it would last until Master BB was even 20kg, let alone 25kg. We have no idea how Britax managed to get a child as old as the one in their adverts, into the Advansafix in the 5 point harness, but our opinion is that this advert is very misleading: Advansafix Advert
The Advansafix is height limited. A child can only use the 5 point harness up to a certain height (Master BB at the time was around 95cm tall). Little Miss BB who was much taller, but still well under 25kg could not fit in the seat at all. After the highest harness height is reached, then the harness must be removed (like the Evolva) and the 3 point adult seat belt is then used. Master BB was already on the highest harness setting, and would have had to move onto the 3 point adult belt next.
We then had a quick look at the BeSafe iZi Plus which again should be able to carry a child rear facing until 25kg. However, with just 1cm above 4 year old Master BB's head, the retailer sensibly refused to sell us one. It utter desperation, we had a fugly Special Needs Britax Traveller Plus securely fitted into our car and off we went home. However, the Traveller Plus is an archaic seat. It is huge, with a 5 point harness which twists and turns. It is really very basic. Bearing in mind my back wasn't good, I was having to spend a good 10 minutes untwisting and sorting out the 5 point harness before use and it was agony for me! Suffice to say that the Britax Traveller Plus was very quickly removed from the car, and so we continued to use the Kiddy Guardianfix Pro 2 with the impact shield until Master BB reached 18kg. Things were going ok, when having long since finally caved in and bought a "family car", we needed to change it again. The Kiddy seat was sadly no longer compatible.
So, we searched online for the safest car seats that were compatible from the Which? ADAC reports. A new ADAC report has literally just been released so with good ratings we decided to attempt a Britax Kidfix II SICT highbacked booster. We thought the additional crotch strap and harness pad may dissuade Master BB from trying to escape, and it had really good safety ratings. We went to the retailer and made sure the seat fitted in the car. We persuaded Little Miss BB to try it out to see the size and how she fitted. She hated it instantly and said the shoulder strap part hurt her. However, we decided to buy the seat and try it because we thought it would suit the rather more laid back Master BB.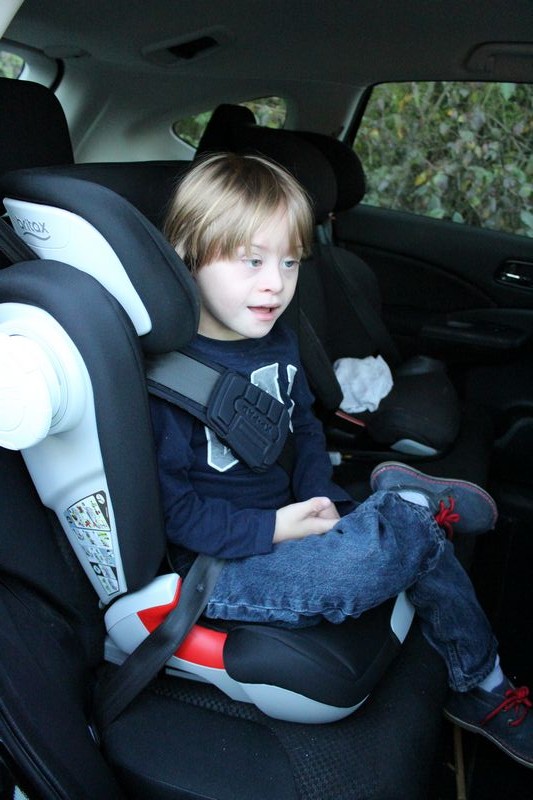 The Kidfix II SICT turned out to do exactly what we needed. Master BB psychologically felt like he couldn't escape from the seat because of the shoulder piece and crotch strap holder. We loved how the shoulder pad holder was elasticated, so that if Master BB leaned forwards, the shoulder pad would bring him back again into the back of the seat without slackening off the seat belt. The shoulder pad holder also tended to keep the shoulder part of the seat belt straight, so that it rarely twisted which made the seat easier to fit, and also more likely to be correctly fitted. If the seat belt did twist, then the velcro on the front of the pad was very simple to undo, sort out, and do back up again. I liked how the crotch strap held the seat belt down onto his pelvis although it didn't quite lie flat in the middle.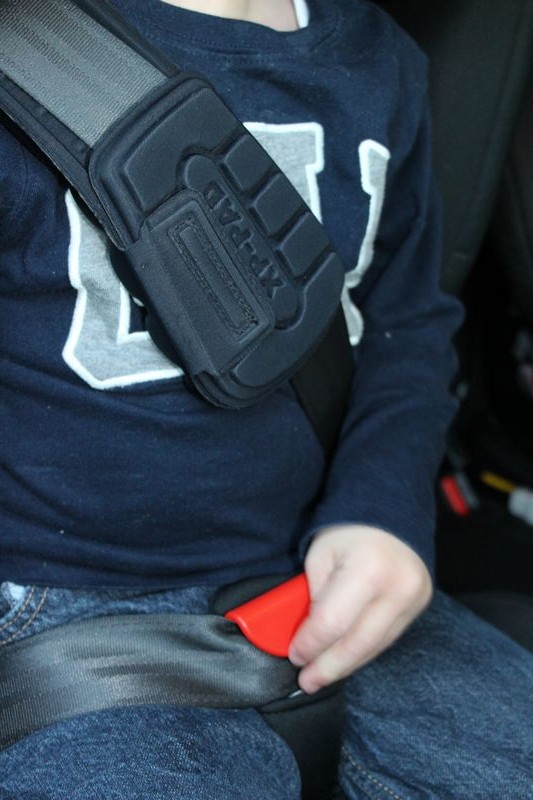 The Kidfix II SICT was simple to fit and remove with easy to use, Isofit connectors. The seat pad was comfortable. We liked the way the side impact protection winds out of the seat, on the door side of the car, although we would be interested to see how exactly this absorbs energy in the event of a crash as it seems a strange system. The seat was lightish to carry, the head rest was very easy to adjust which was handy when we needed to give an 8 year old a lift home in it. We particularly liked how, as with the Guardianfix, Master BB could nap with his head held securely inside the head rest area. There was no head loll, and he looked comfortable. All round we were happy. Master BB seemed secure, and we used this seat for around 4 months.
However, at this point, what Little Miss BB had said about being uncomfortable came back to haunt us. Master BB started leaning out of the seatbelt towards the centre of the car. This got worse and worse, despite us asking him to sit straight and I suspected that the shoulder pad was uncomfortable for him. We took the shoulder pad out of use (it is literally attached at the rear and can be moved out of the way) and hoped that Master BB would sit straight once again. However, the habit was ingrained, and despite best efforts, he refused to sit upright. One day, he took his arm out on the motorway and that was enough for us to take the decision that we needed to find another solution and fast!
Thankfully the Diono Radian 5 was about to be released. This has a 5 point harness forward and rear facing until 25kg. For us rear facing wasn't an option partly because of Master BB's mobility / inability to climb in,  and partly because I wanted to be able to see what he was doing and if he was trying to escape at any point. I also don't fundamentally believe that ERF is the safest option for an older child, and I can't yet find any independent expert who does either, but that's one for a post another day.
After our experiences trying out the Advansafix, we went to our local independent retailer and measured, and measured and check whether we thought Master BB would fit in the Radian 5. After two visits and lots of e-mails to Diono, we came to the conclusion that at the age of 5 and 107.5cm tall, that he had a good 5-8cm growing room. Frustratingly the shoulder rests move up, higher, but the shoulder harness height doesn't change. I bought one.
It took me something like 4 hours to work out how the Radian 5 would fit in my car! I phoned a retailer friend up afterwards and mentioned I had fitted the seat. He laughed and said, you need a degree to fit that seat, and he is absolutely correct. There is no wonder something like 90% of car seats in the UK are incorrectly fitted, because the Radian 5 really was a conundrum and a half, with bits and pieces everywhere. I have to confess that I am still not 100% confident the seat is fitted correctly because it was so complex, which coming from us, says something about how difficult it was.
It tickles me that the Radian 5 is advertised as easy to fold flat (its not that easy!) and came with a free travel bag… but yet it weighs an absolute ton!! However, the super strong steel frame should offer a child good protection in the event of a crash. I have to say I have suddenly appreciated the terms "easy to fit" and "lightweight"with our other car seats because this is at the total opposite end of the scale to anything we have previously used. Personally, I would never choose the Radian 5 as a car seat unless I really required one – which we did! I think if you can take the meticulous care that we did, to ensure the seat is well fitted, then this is a good car seat.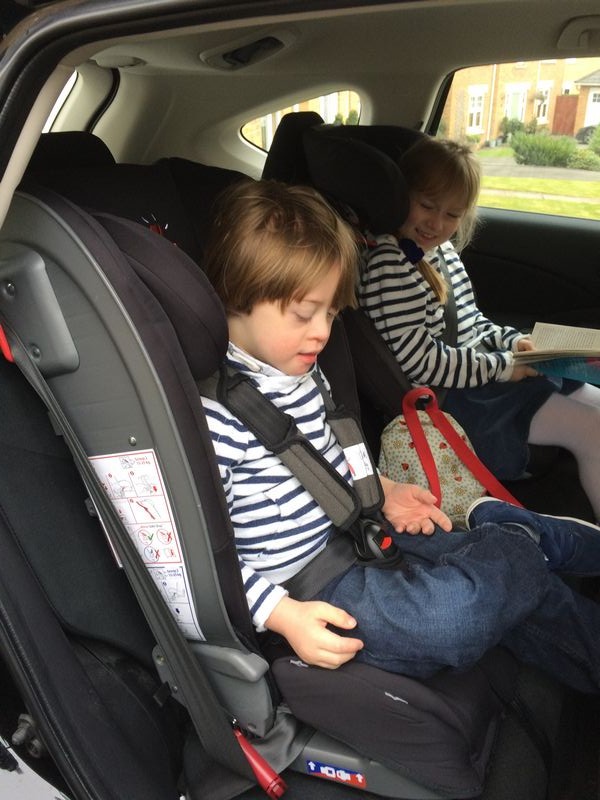 So, let us look at the positives. The Radian 5 has a 5 point harness, and Master BB fits in great. There is still a fair amount of growth for him. The distance between the top two harness is approx 10cms which is quite a big step, however, the holes in the fabric also don't line up with the holes in the polystyrene behind (the latter are higher). The memory foam base looks comfortable, and I think the give in this foam material has made a difference to the amount of growth left in the seat. The harness pads stay in position really well because they are attached at the top. The buckle is a little tricky to do up. Mr BB struggles, and I have to think twice how to do it each time. We have had issues with the harness being too loose because the instructions tell you to add in an additional piece of strap called the 'Safe Stop' attachment for children between 15 and 25kg. However, this then prevents the harness from being pulled as tightly as we really needed. I am actually scared to alter the harness tension lest I can't pull the harness tight enough again, because so far I haven't had the strength to tighten it up back up. The retailer told us to remove the ' Safe Stop' as it is designed to limit the load on the child in the event of an accident, as a braking device, but this is no good if the harness is loose. However, Master BB hasn't been able to escape so far, although I don't think it would be hard for him to slip his arms thorough the harness.
My biggest issue at present is that when Master BB nods off, there is not the head support or recline that any of his other seats had. I had a very horrible journey yesterday watching his little sleeping head drop and jerk back up again, and there was nothing I could do, but thankfully I was home fairly quickly. So whilst on the one hand , at present have Master BB more secure, he isn't as comfortable when sleeping. He is also now kicking my seat a lot, whereas he didn't before! Swings and roundabouts.
I really hoped the Radian 5 would be a good solution for us, but I am regarding it as a stopgap now, because I am really not enjoying using it. We didn't quite appreciate how important "ease of use" was when considering a car seat until we got the Radian 5. I need Master BB to use it for just enough time so that he 'forgets' to sit to one side in his Britax seat, and then we will probably transfer him back unless we can find another solution.
*EDIT – Since writing this review, the Radian 5 has been marked as a "Don't Buy" car seat by Which? after it failed safety tests. Their experts found it difficult to fit. They also noted that the shoulder pads were supplied with the pads the wrong way round – and of course, we simply fitted them the way that they were supplied. So they are wrong in our photos above. This meant that the harness could not be tightened effectively. Their testers agreed that the fitting was complicated and that errors could be made. They also recommended as we do, that if you need this seat, then get it professionally fitted.
Meanwhile Little Miss BB is still happy with her Rodifix. The recline has been really handy for her at times. I wish she couldn't move sideways so far out of her seatbelt, and I am already on the look out for another high backed booster for her with better side protection and less flex. At the same time, I am keeping my eyes out for another car seat which has a harness for a larger child. The Apramo ONE looks a very interesting at present, not least because you can still recline the seat up to 25kg. This is an amazing Group 0/1/2/and 3 car seat! We are going to get one of these to try next here at BBHQ.
*EDIT* Hot off the press, there is a new car seas from a company called 'Cozy N Safe' on the way: the Excalibur. This Group 1/2/3 car seats has a harness certified for use up to 25kg. It also has a recline that is suitable for a child up to 36kg. We know nothing about this brand, or their safety records, but we will definitely try and have a look at this seat.
Looking back, I never thought that we would have so many car seats, but we are having to adapt and keep on top of Master BB to keep him safe. Having a child with additional needs is a worry, especially at the transition point from Group 1 into a Group 2/3 seat (with the adult belt), because in our case, Master BB simply does not understand to keep his arm underneath, nor can you explain or even tell him off. I think one thing we have learnt is that, whilst it is good to look ahead and anticipate any possible problems, at the same time, another 6-12 months can make a huge difference in a child's understanding, and holding off a little longer, or even going backwards as we had to, can make the difference between success and failure.
NOTE: These are not intended to be full reviews of each car seat.