Search best buggy: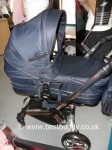 Special Edition Jané Rider Classic at The Baby Show, Manchester, ...
This was the first time I'd been to a Baby Show so I didn't really know what to expect. I ... Pictures Reviews
Read More

Jane Rider Review
As a pramaholic lol, I've tried many many prams, lots of M&P ones, Silver Cross, etc. I recently brought my daughters ...
Read More