Search best buggy:

This time last year…..
Today we went to Nostell Priory in Yorkshire, to join in the Wakefield & District Down's Syndrome Support Group at their family fun day. I started this post to write about the day, but instead, it has brought memories flooding back of this time last year…..
This time last year, Master BB and I went alone to the Family Fun Day. Little Miss BB's behaviour had not been good. Mr BB needed to work, and so he told Little Miss BB that she could not go with us for being naughty. We thought that she was tired and that it was affecting her behaviour.
What we did not realise at the time, was that this was really the start of Little Miss BB becoming seriously ill. The Family Fun Day is the day before the start of the Harrogate Nursery Fair, and it is clear looking back at the Harrogate photos, that Little Miss BB was not right. She had tears and tantrums whilst at Harrogate, and she was not her usual cooperative cheery self.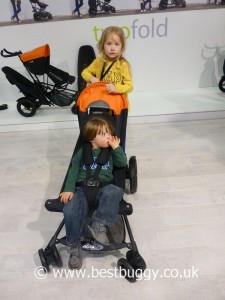 Over the coming days, her behaviour got increasingly worse. She had phenomenal temper tantrums where she was kicking doors, screaming the house down, throwing things, all with bad attitude. These lasted hours…literally hour after hour after hour. She would start each day off being lovely, but by each evening she was absolutely horrible. We simply thought she was being really naughty. Then she started moping….she would not play, she did not want to do anything. She started saying she was hungry all the time. We knew she was eating fine. This developed to the point where all she would do was to sit in front of the clock, asking what time the next meal was; which was incredibly irritating when she was asking every 5 minutes. At this stage, I noticed that she was looking thinner and alarm bells were ringing loudly. I made an appointment for her at the doctors, but it was Easter the following weekend, and there were no appointments for another week.
The very first sign that we saw which retrospectively was an issue was about 5 weeks prior. Little Miss BB had been waking in the night for a drink. She did this for a week, then we put her in bed with us because we thought her bad behaviour was due to the broken nights. We resolved the waking, told her she couldn't have a drink, and all was well. But once she went back in her own bed, it all started again – she was sneaking into the bathroom and drinking out of bath toys and empty bottles. We stopped the waking again, but once again she restarted when we moved her into her own room. The photo below was taken a few days after Harrogate, and it is clear how ill she was, and how thin her wrists were. However, her behaviour was absolutely horrendous by this stage. We went back on this day and got another pushchair, and swapped the children around because Little Miss BB's unpredictability in public was scaring us.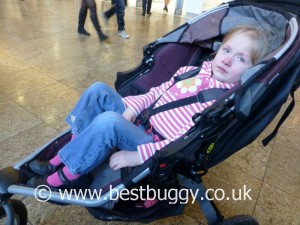 On Easter Sunday, at my sister's house, we were all scratching our heads as to why this usually gorgeous, good little girl was being so badly behaved. Little Miss BB came in and said she was thirsty. We gave her a pint glass of water. She drank it in seconds and then asked for more. We gave her a second glass, and she did the same. At the point at which we gave her a third pint, and she downed that too, we were all just looking at her in amazement knowing things were not right….that was when I was pretty sure I knew what was wrong……
Just a few days later, on her 4 and a half year birthday, Little Miss BB was formally diagnosed with Type 1, insulin dependent Diabetes Mellitus. Once again, our world was turned upside down.
I do not at this point want to go into much more detail, not least because we have an early start for the Harrogate Nursery Fair tomorrow morning. However, what I do want to say, is that we had no idea at the time what Type 1 Diabetes would mean for our family. Having been through one massive rollercoaster with the birth of our son, we were about to start an even bigger rollercoaster with Little Miss BB. Diabetes sounds such a simple word. It is incredibly misunderstood, and one day I want to explain more about how it impacts on our every day life.
All I do want to say though, is that Little Miss BB, over the last year has been the most incredibly brave child I know. I can not start to tell you how brave she is. How positive she is. How matter of fact she is. She is an absolutely amazing child and I am very proud that she is ours. Little Miss BB doesn't know it yet….but she is in for the biggest treat of her life later this year…..to try and show that her courage has not gone unnoticed.