Search best buggy:

Bugaboo Donkey New Compact Fold is Coming!!!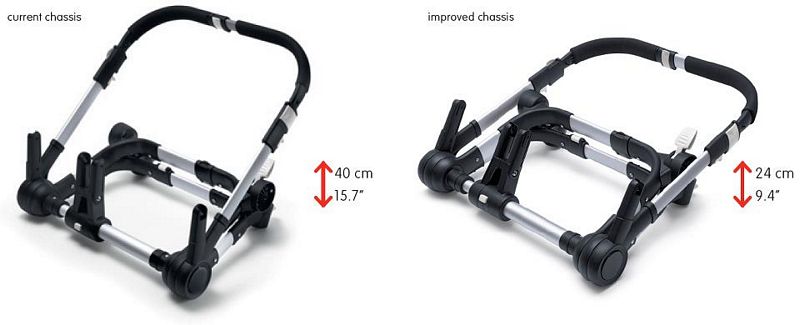 We have just heard that there will be a new compact chassis for the Bugaboo Donkey from September 2012. We are absolutely delighted to hear this because the fold has always been a big issue for us personally as the Bugaboo Donkey takes up a lot of floor or car boot space when folded. We have yet to see exactly the changes to the fold, but we are happy that something has been done!
The new Bugaboo Donkey chassis will be exactly the same in style as the old chassis, and the look of the Donkey will be exactly the same. The only difference is that the Donkey chassis will be 3-5″ more compact, and so will need less space when folded. The large rear wheels will need removing to benefit from the compact fold, but they are easy to pop off and on again. Removing the wheels means that the handle will then drop down, making a flatter fold (see photo above).
There will also be a secondary lock added instead of the current single lock at the left side of the chassis. This change has been made in line with the latest regulations.
The new chassis will replace the current chassis as a rolling change, so that anyone buying a new Donkey after September should automatically get the new compact chassis.
However the new Bugaboo Donkey chassis will be available to buy as a spare part for anyone wishing to change their current Donkey chassis. The replacement chassis will cost £329.95 – and will be literally the frame ie no wheels.