Search best buggy:

Win a Brand New Quinny Footmuff!
This competition has now closed.
WIN A BRAND NEW QUINNY FOOTMUFF IN ROCKING BLACK!
We have one brand new Quinny Footmuff in Rocking Black, worth £55, to give away to the winner of our end of year competition!
To enter, you have to:
1. Be a member of the BestBuggy Facebook page. 
https://www.facebook.com/bestbuggy.co.uk
2. Answer this question: 
How many pushchairs have been through the door, here at Best Buggy HQ, in 2011?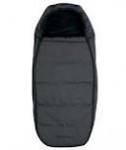 (Note: This includes any product which converts into a pushchair!)
Best Buggy Competition Terms & Conditions
The competition will be closed at midnight on January 31st 2012.
All correct entries will be entered into a draw, and one winner will be chosen from these correct entries at random.
In the event that there are no correct entries, then the entries with answers next nearest to the correct answer will be entered into the draw.
The winner will be contacted via e-mail. If there is no reply to our e-mail within 7 days of the first e-mail contact, then another winner will be chosen.
Only one entry per household.
No purchase necessary.
The prize will be sent within 28 days of the competition close.
By entering this competition, you are consenting to allow your name to be displayed on the Best Buggy Website and Facebook Page. No specific personal details will be given
No information given will be passed on to 3rd party companies
No cash alternative is available.
Entries from competition syndicates will not be accepted.
THIS COMPETITION HAS NOW CLOSED

Here is the full list of the pushchairs which passed through the Best Buggy HQ doors in 2011:
Quinny Zapp
Baby Jogger City Select
Quinny Zapp Xtra
Baby Jogger City Mini 3 Single
Baby Jogger City Mini Double
Britax B-Dual
Hauck Duett
Recaro Babyzen
Phil&Teds Verve
Kolcraft Contours
Easywalker Duo
MyChild Sienta Duo
Baby Jogger City Elite Double
iCandy Peach Blossom 2011
Babyhome Emotion Xtreet
Baby Jogger City Select 2011
Silver Cross Halo
Taga
TFK Twinner Twist Duo
Mima Kobi
Mutsy Duo Rider
Graco Quattro Tour Duo
Joovy Ergo Caboose
Joovy Caboose Ultralight
Bebe Confort Noa
Jane Powertwin
ABC Adventure Buggy with Static Toddler seat
Out 'n' About Nipper 360
Uppababy Vista with Rumble seat
Valco with Toddler seat
Mountain Buggy Duet
Safety First Surf
Croozer
Easywalker Qtro
Mamas and Papas Urbo
Britax B-Agile
Quinny Senzz
I'Coo Pii
Air Buggy Mimi Double
Love 'N' Care Twingo
Bumbleride Indie
Baby Jogger City Elite Single
Baby Jogger City Mini 4
MyChild Pinto
Kidz Kargo Duellette
Mountain Buggy +One